We took our time on the drive from Pittsburgh to Dallas, keeping the driving time under ~6 hours each day and trying to mix in some fun activities and visits with friends.  The trip started with a trip to the doctor, so by the time we were officially on the road, we had two very tired boys.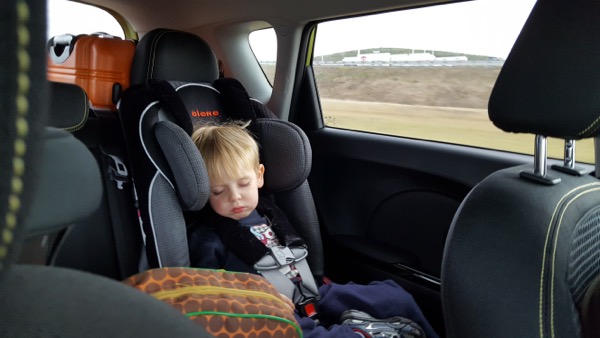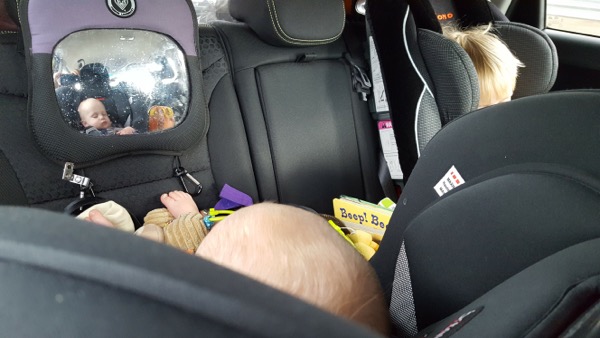 Speaking of tired boys, I found this sleepy Malcolm picture from sometime in December, I think.  Anyway, it was too cute not to post.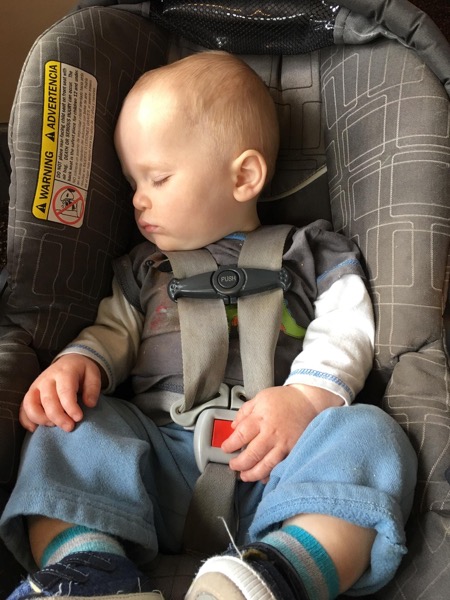 The first day, we drove to Indianapolis.  We stayed in a hotel with a pool – did not get many pictures there though – and went to the Children's Museum the next morning.
This was driving through Columbus en route from Pittsburgh to Indianapolis.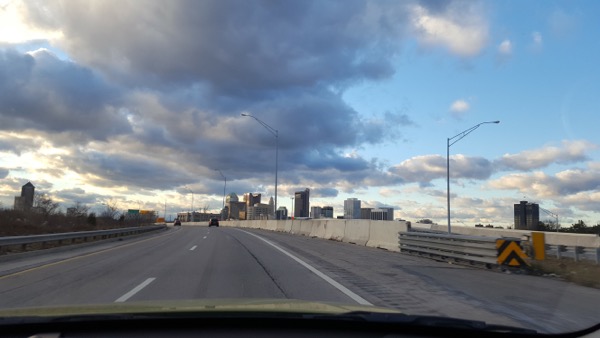 Driving into Indianapolis after dark.  I couldn't get a good picture.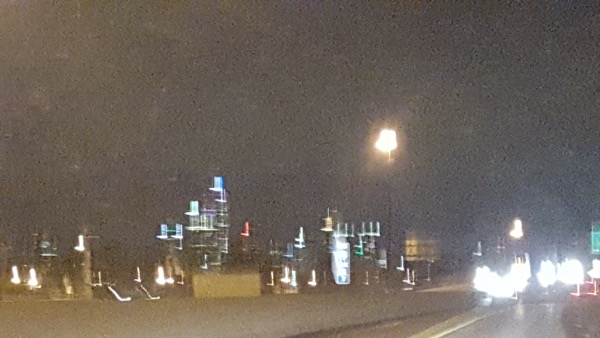 At the pool – Malcolm was still not feeling 100% and was tired.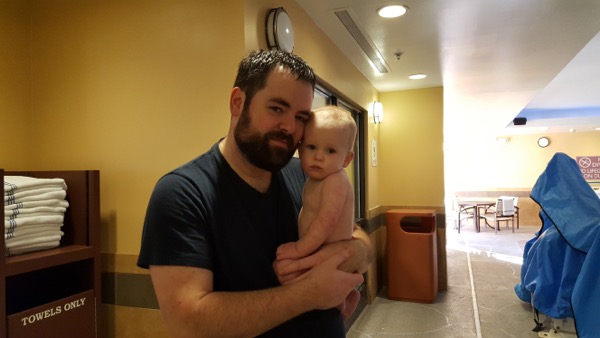 This was a great Children's Museum.  Kieran loved the dinosaurs climbing into the museum.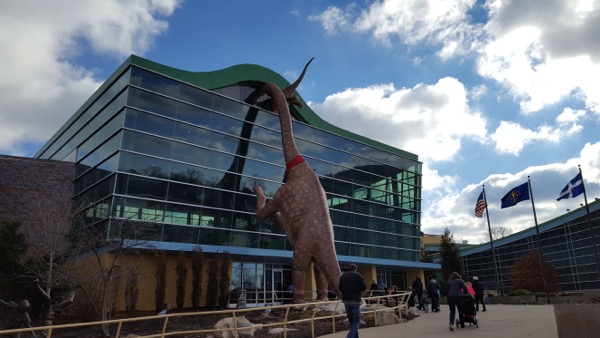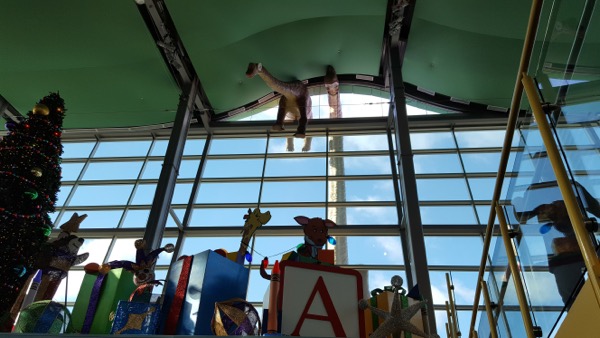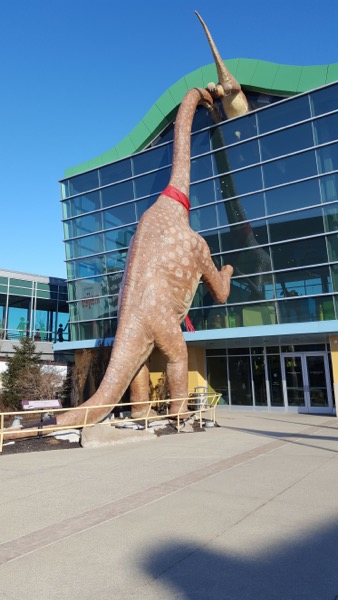 And his other favorite part was the big climbing, obstacle course made up of leaves, nets, and boats.  Kieran climbed all the way to the top.  See him in that boat up there?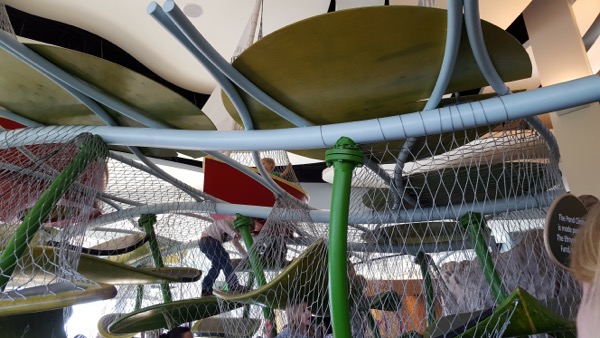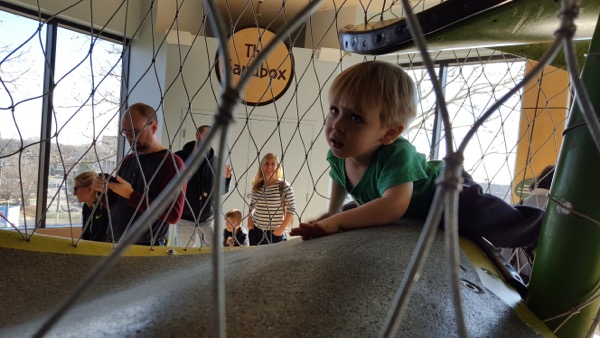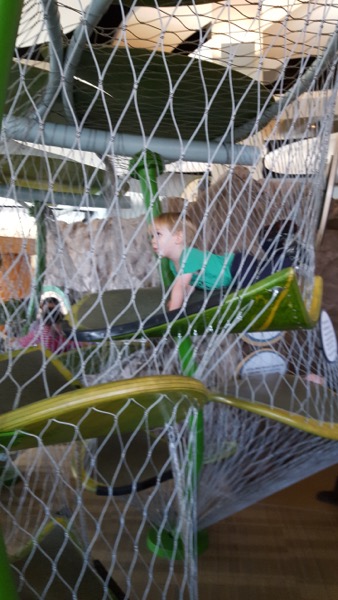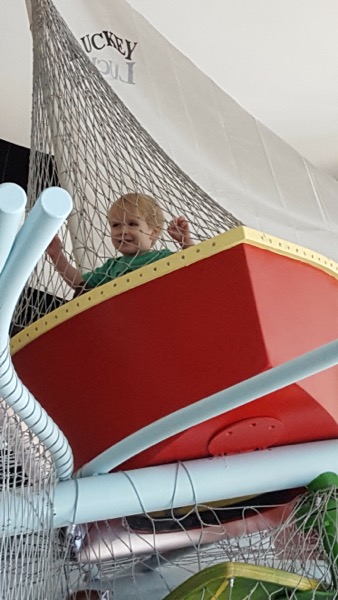 They had lots of water tables and other cool hands-on exhibits.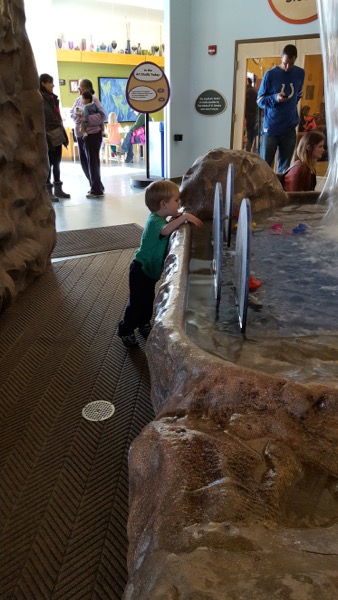 There were some nice areas for toddlers too.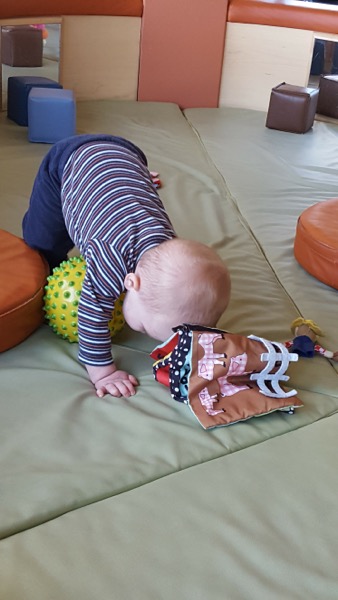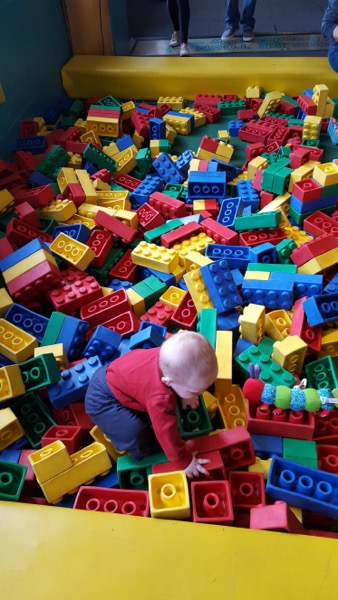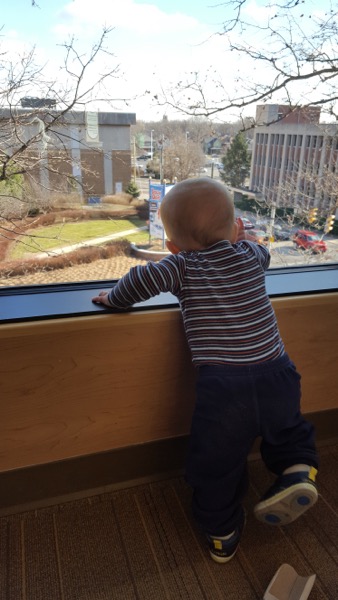 This was the view looking down onto the lobby.  They had a huge Yule Slide that was a full story tall.  The line was REALLY long, and Malcolm was too little to ride, so we did not ride.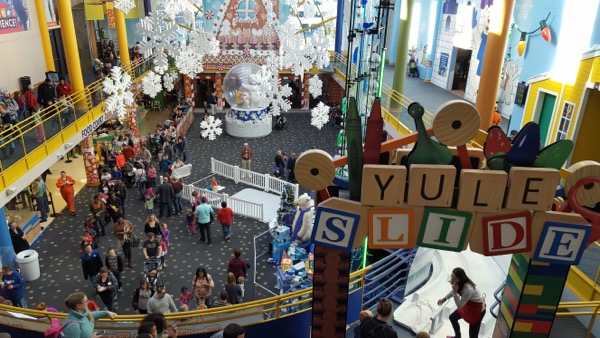 Making music.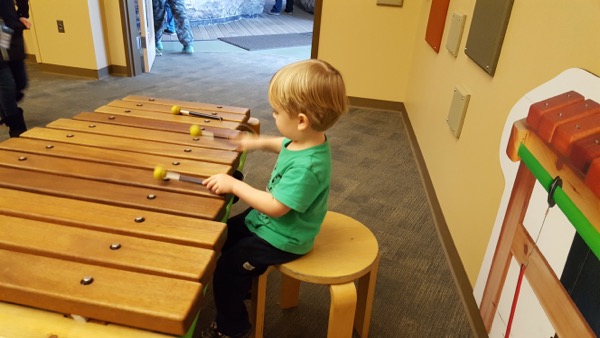 Malcolm was climbing and running all over – he loved it!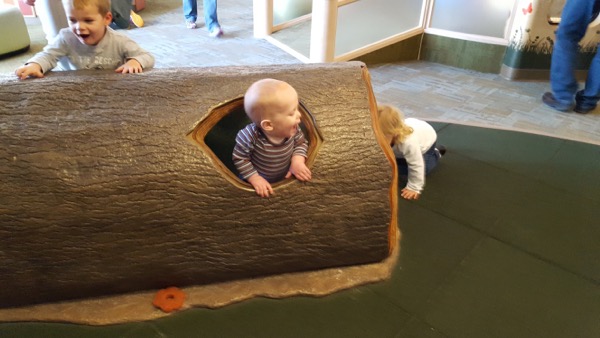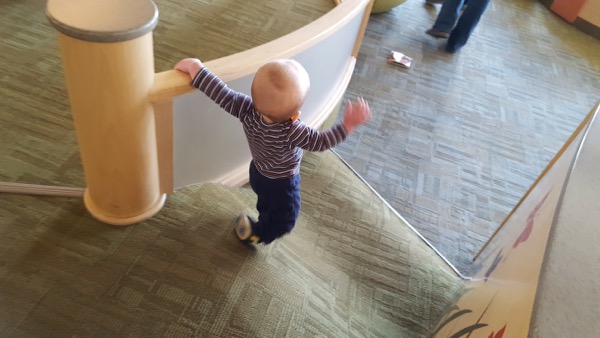 After a few hours at the museum, we got back on the road for St. Louis.  Malcolm decided he would take a turn driving.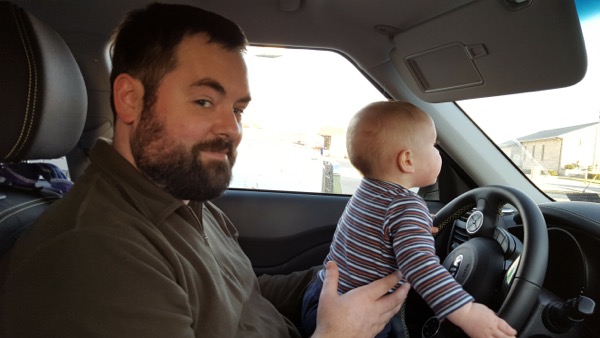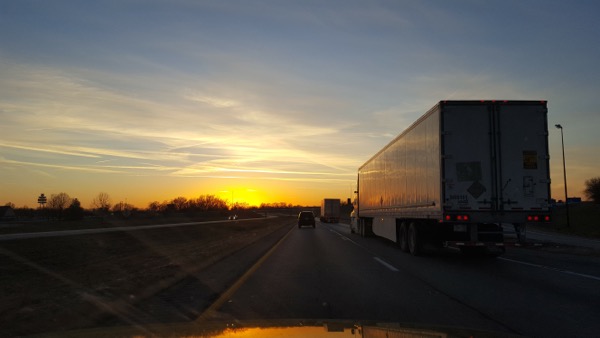 We stayed in St. Louis a few nights with the Hermes family.  The first full day we were there, we went to the City Museum.  We could have spent a couple of days here, but after several hours, we had some tired and HUNGRY boys.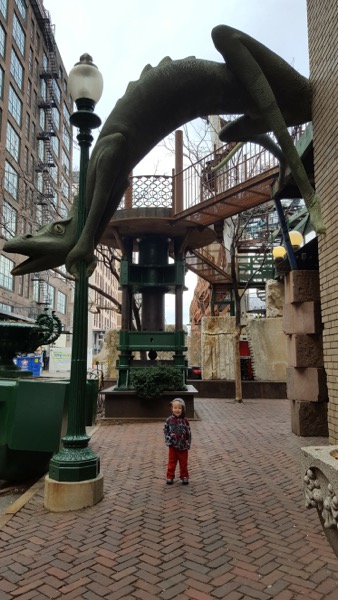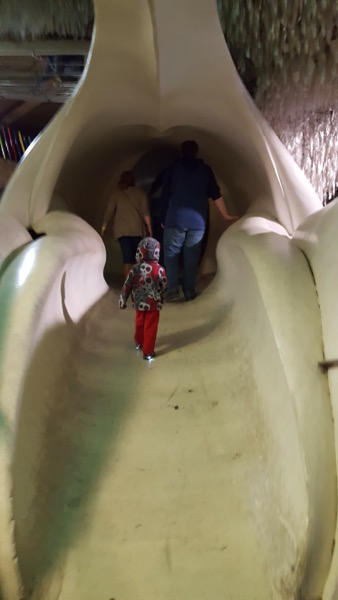 You cannot tell, but we are about 4-5 stories up.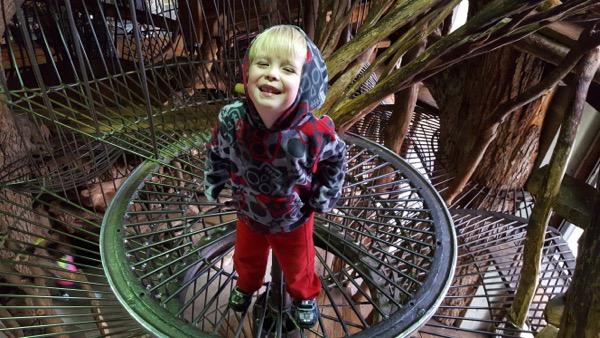 Kieran and Penny in the outdoor ball pit.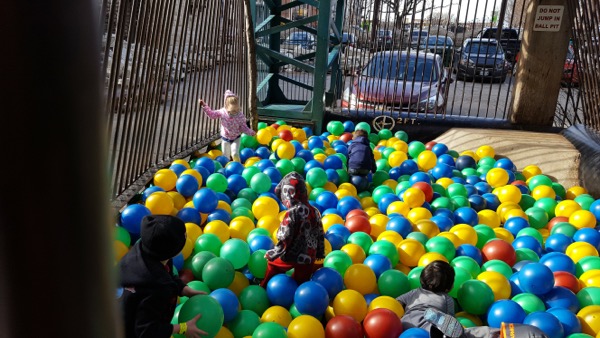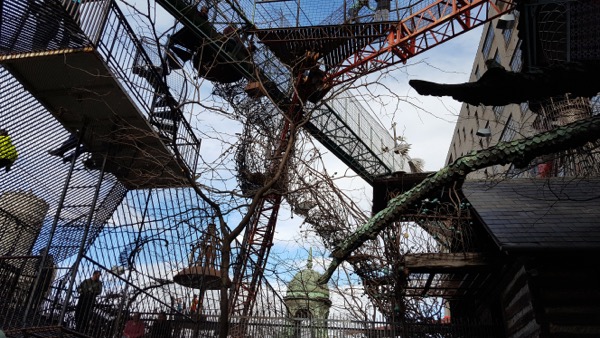 Roasting a marshmallow.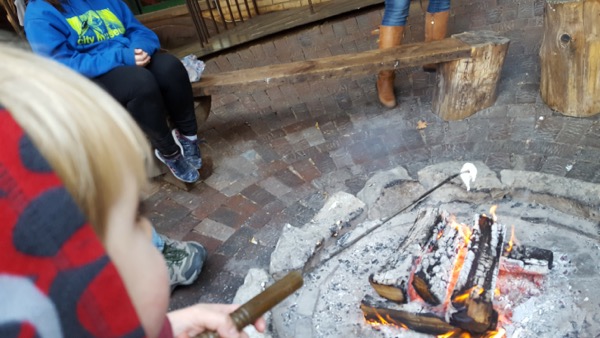 Riding the little train.  Kieran insisted on going multiple times!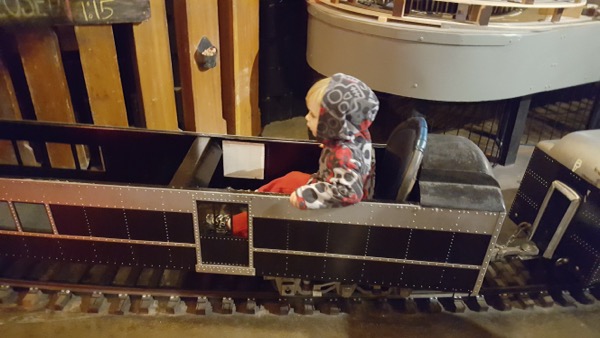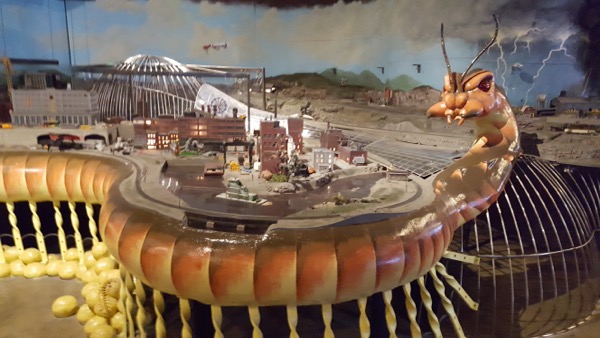 All that museum fun works up an appetite!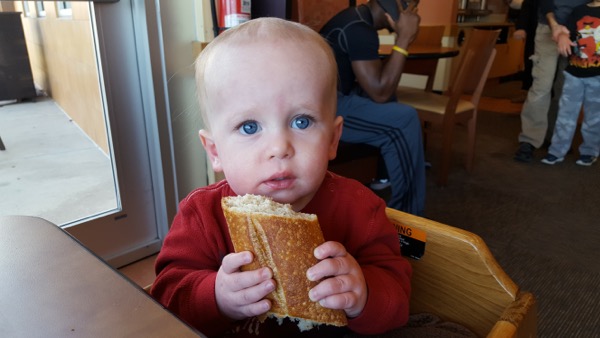 Malcolm liked Penny's toys.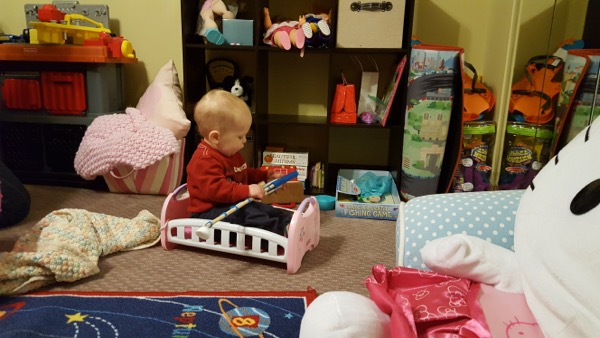 We were in St. Louis for Kieran's birthday.  We went to a placed called Monkey Joe's to celebrate.  It was full of inflatable bounce houses and slides.  Kieran loved it so much.  He still had a really bad cough, so I kept making him take water breaks to give him time to catch his breath.  Malcolm also really loved it.  I have some HILARIOUS videos from this adventure, but those will have to wait for later.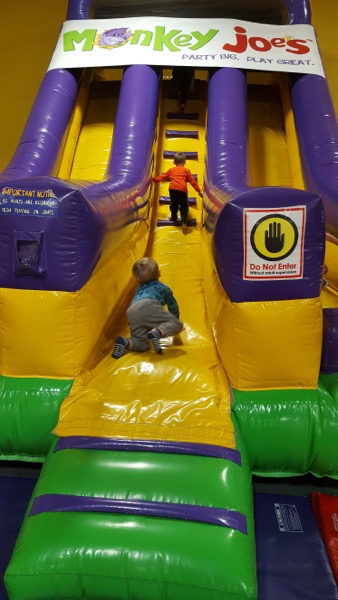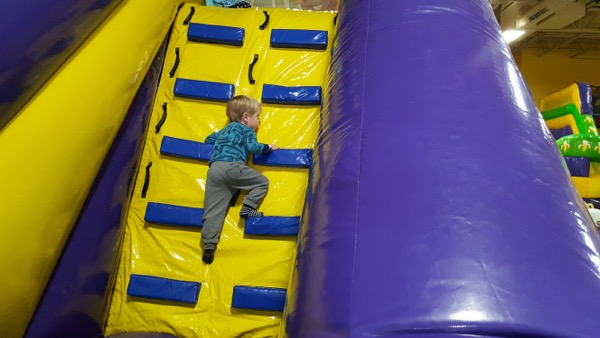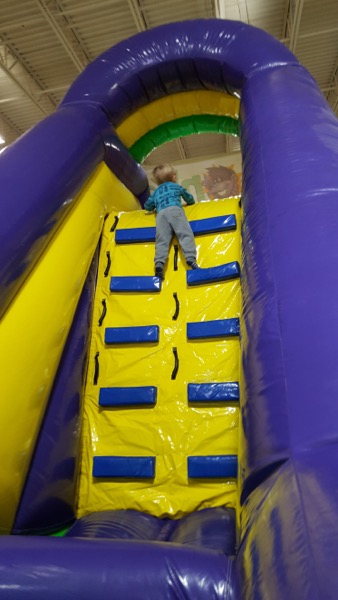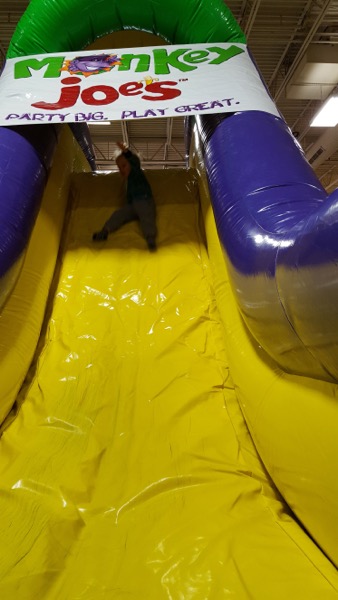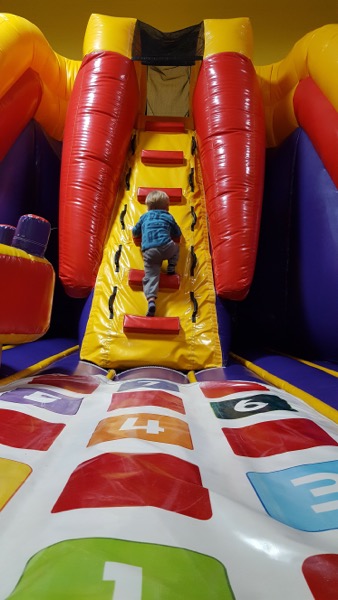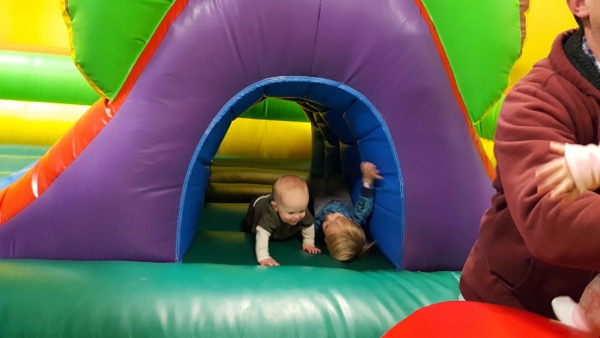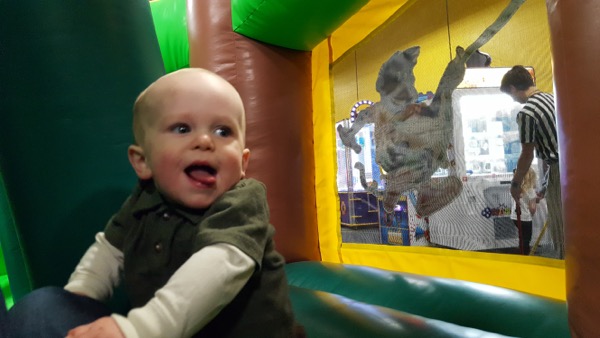 St. Louis does not have an Eat N Park, but we found a place with a  salad bar and delicious dessert.  Happy birthday to you, Kieran!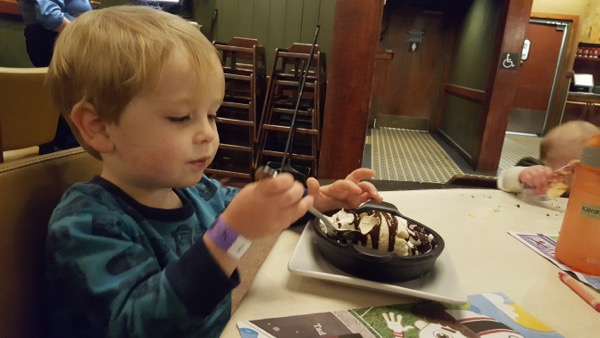 The next day, we were back on the road, this time to Tulsa.  This was one of our longest days.  Fortunately, we once again had friends to stay with – this time, Kieran and Malcolm got to make some new friends: William and Sam!
It was cold, so the boys were all bundled up to play outside.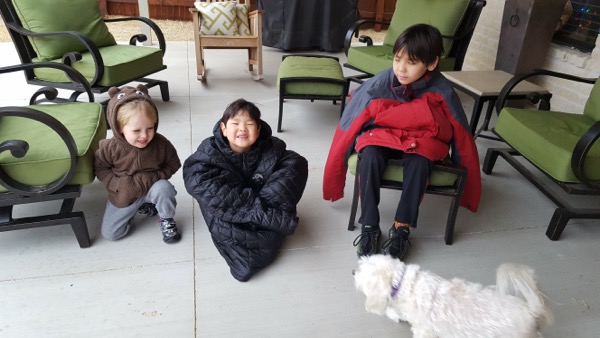 They decided to have a snack in the soccer goal.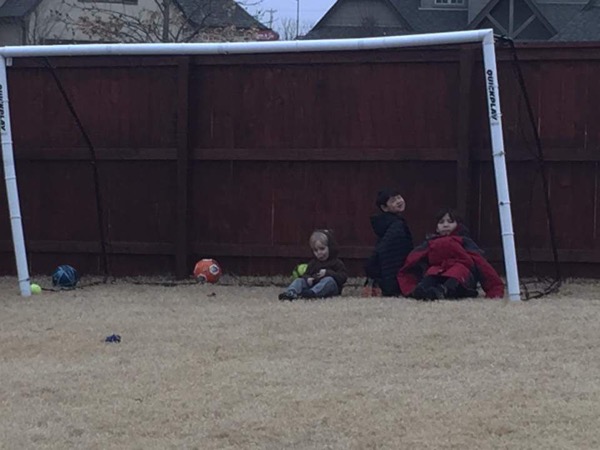 Coloring with Sam.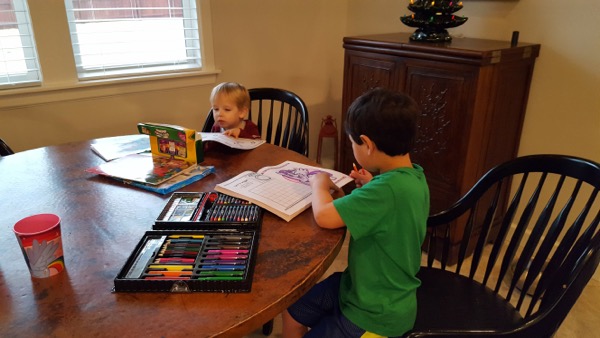 Mr. Malcolm being silly with a towel.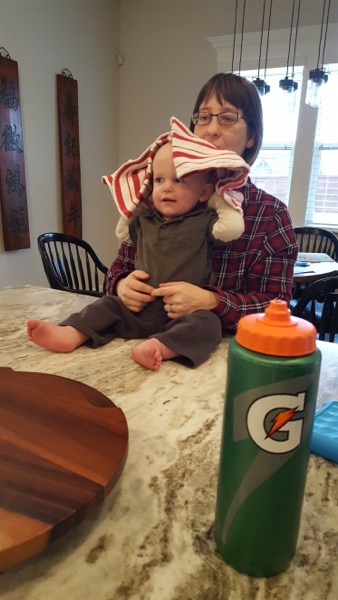 The dog bone as big as Malcolm.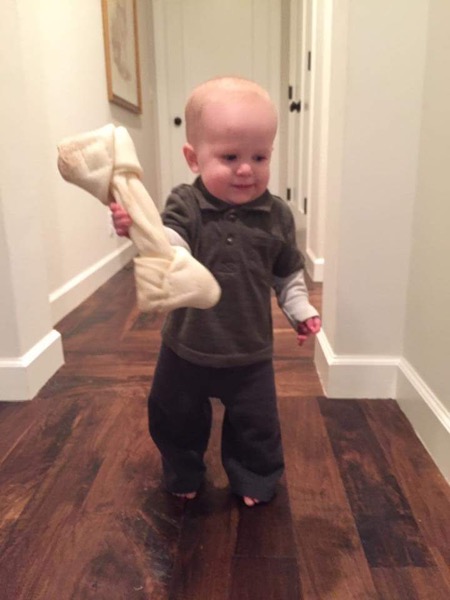 We stayed in Tulsa just under 24 hours, but we crammed in a lot of fun.  But, it was time to get on the road for the last leg of our journey to Dallas.  We arrived after 8pm and stayed in a hotel with a fantastic view.  And, we woke up to our first morning in Dallas.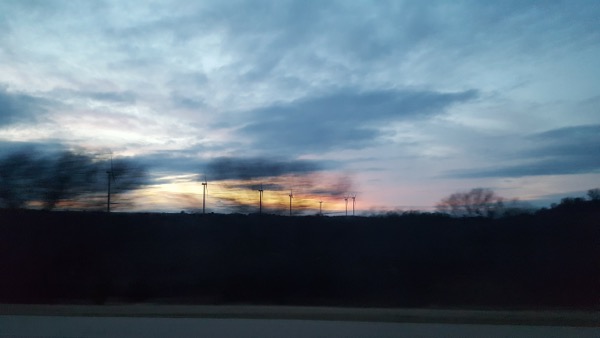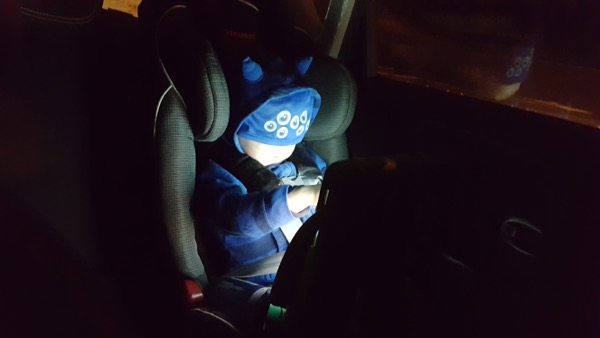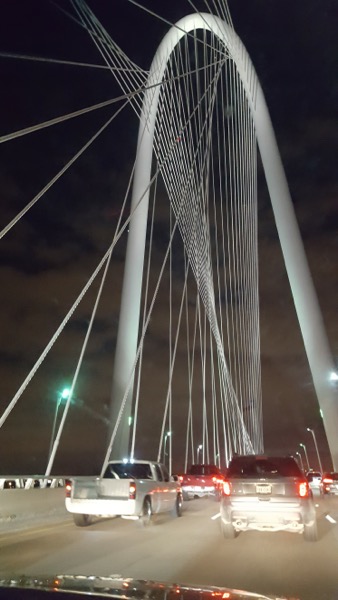 Oh yes, they call me the streak!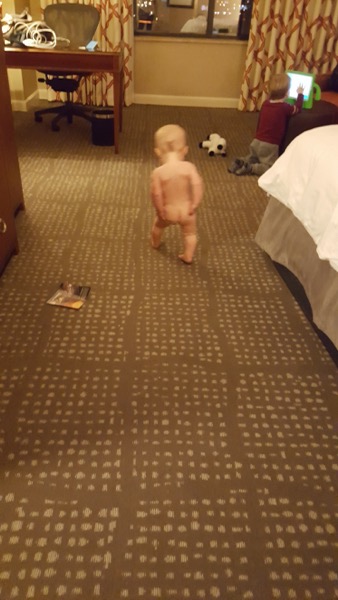 The next morning, the movers arrived with our things, and we signed a lease on our house to get us through the few days until we could close.  The new roof – which is what was necessary before we could close – was put on the same day we moved in.  It was a crazy day.  We had Jack in the Box for lunch in our new kitchen, went to the playground in our neighborhood to play, and got all our beds set up to spend the first night in our new house.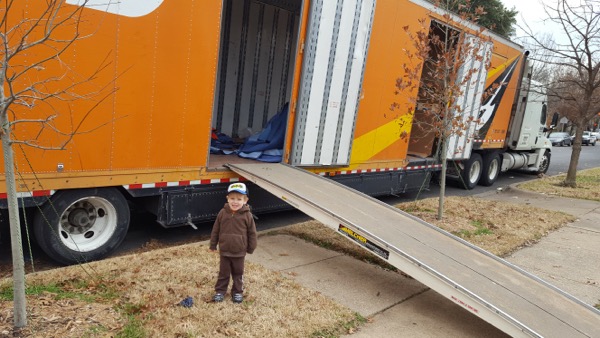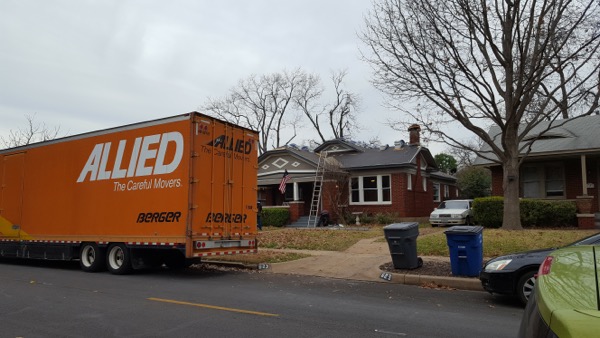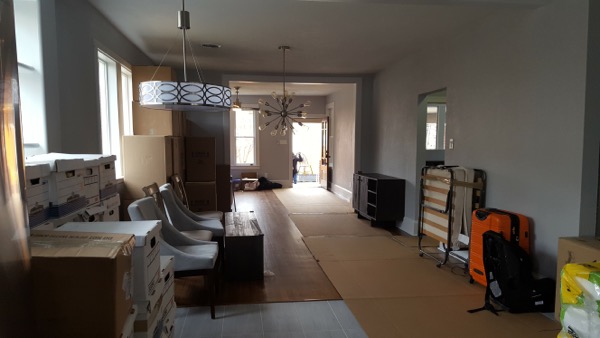 Playing iGuy while the movers unloaded the truck.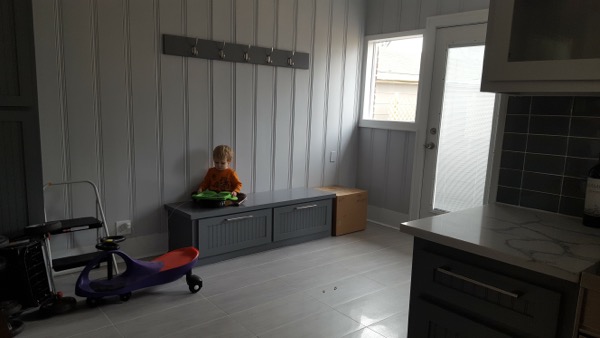 Lunch at the island (Kieran calls is the "deck" sometimes).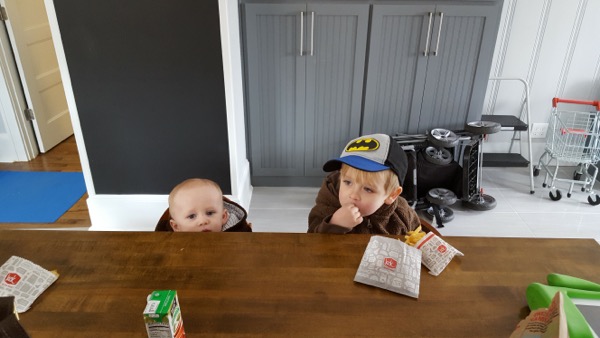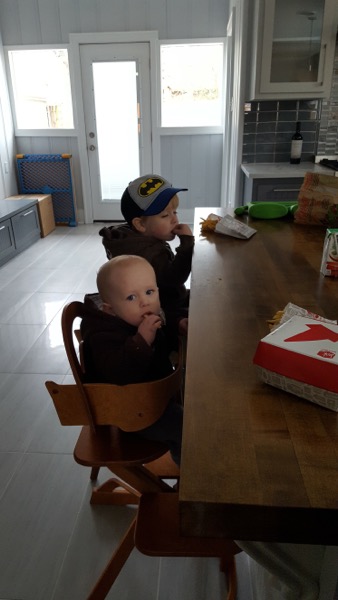 Playing at Kidd Springs playground.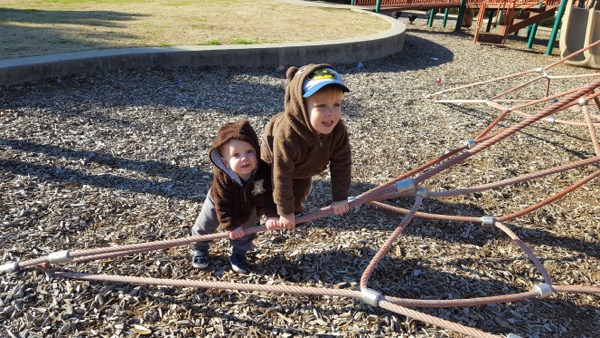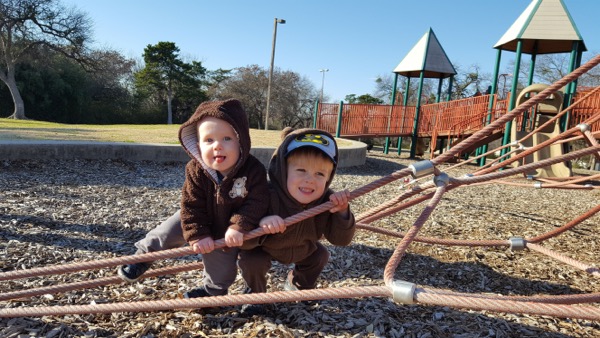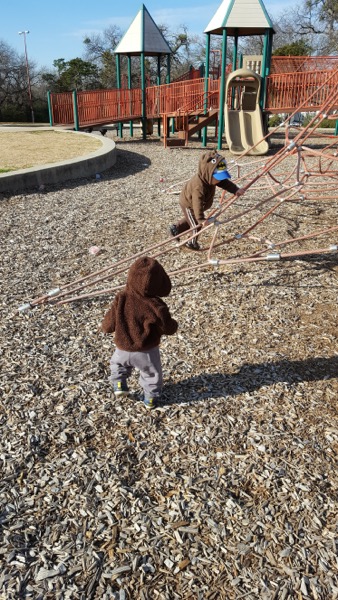 Malcolm likes his new bathroom.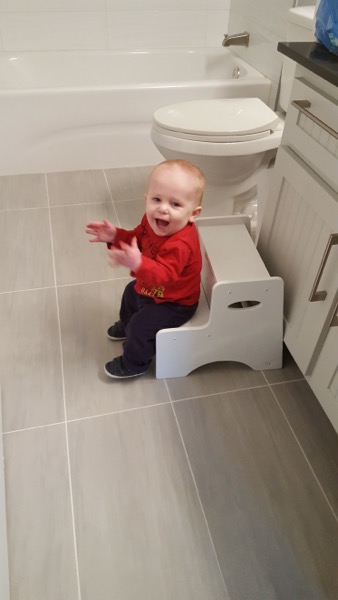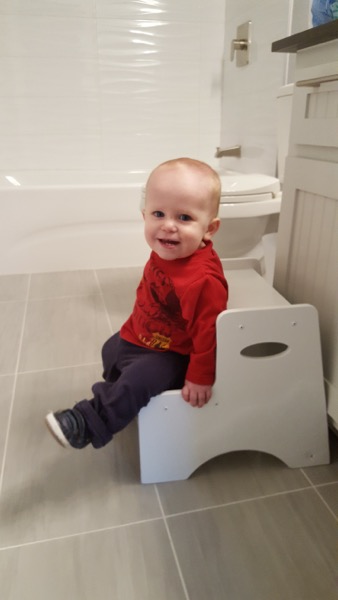 Kieran Vader in his new room.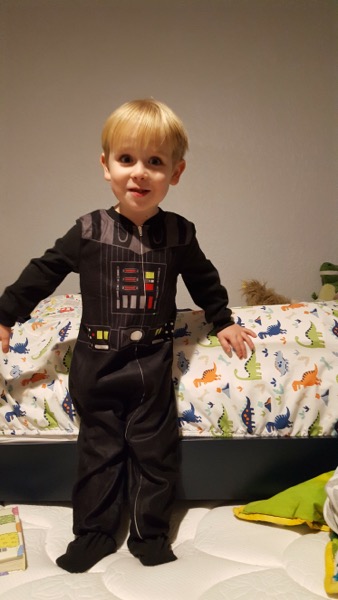 We brought the snow with us.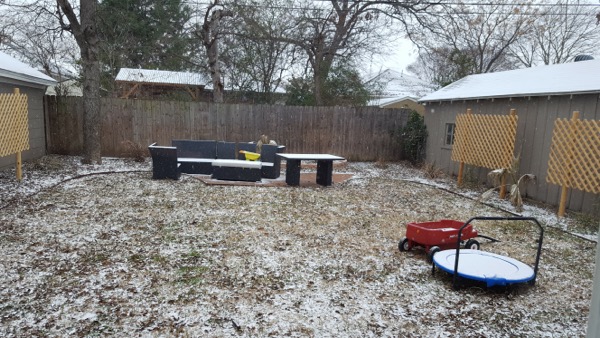 Kieran's bedroom – so much unpacking to do.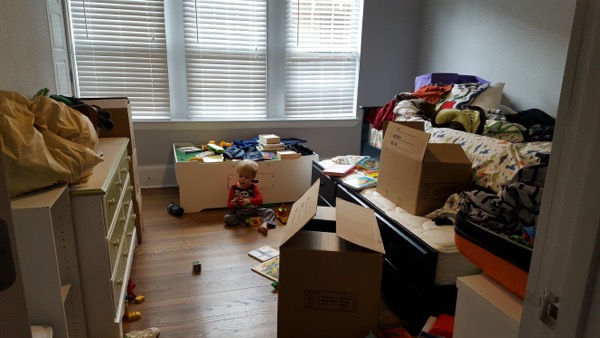 A few days later, we officially closed on our house.  Afterwards, we went to dinner at a place called the Flying Fish.  Kieran loved his kid meal in a boat!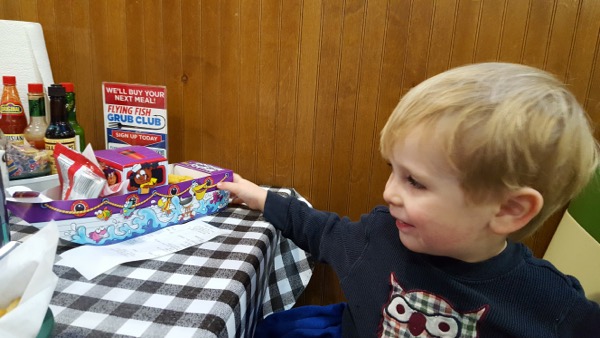 Finally, our first takeout from the local diner – Norma's.  I got steak fingers.  Yes, steak fingers.  Welcome to Texas!