Everyday life in Dallas in May. The weather was beautiful. We would often make the boys some dinner and go for a walk with the wagon while they ate.  Looking forward to Fall weather so we can start this up again soon!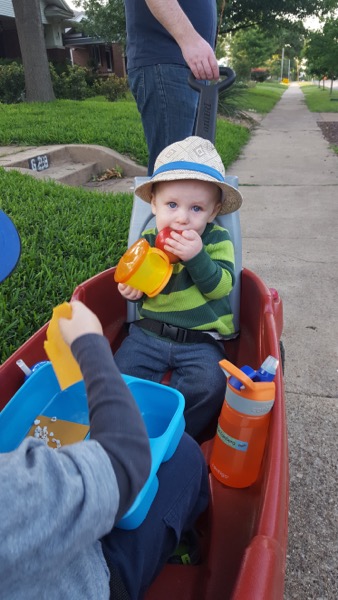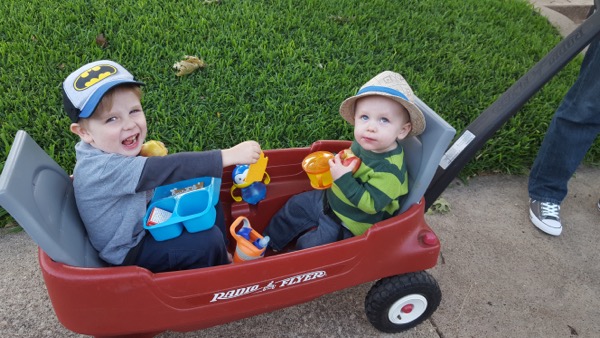 Exploring Twelve Hills Nature Reserve, a few blocks from our house.  This used to be an old apartment complex, but now is a wild nature reserve.  There is a single trail – about half a mile long – that loops around.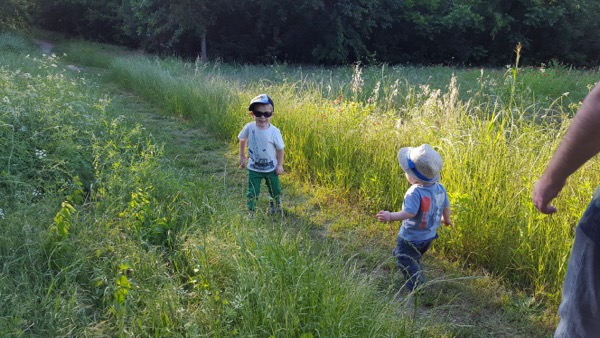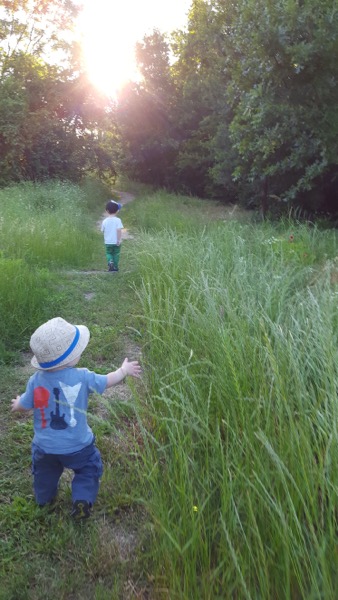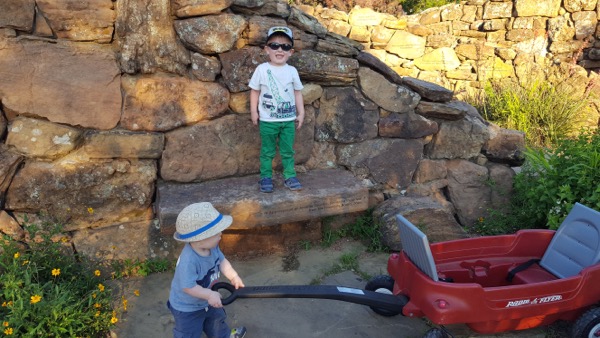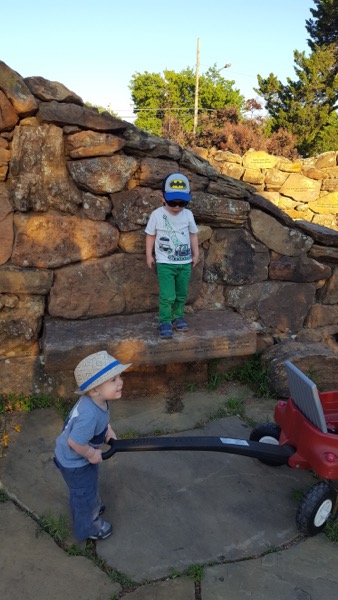 Hanging out in the backyard and making some sidewalk art.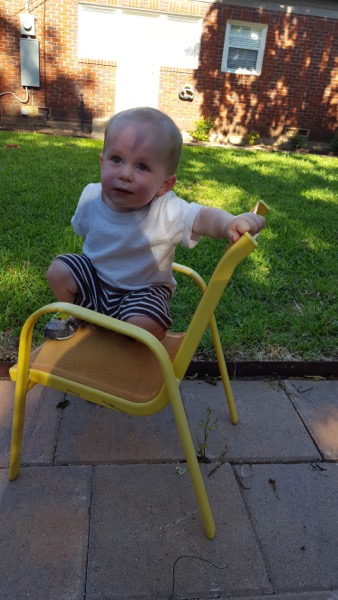 Silly brothers.
Having a snack in the pillow fort made out of the couch cushions.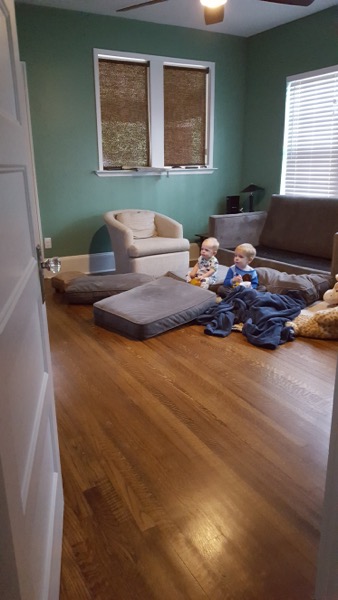 Mr. Cool ready to go to the zoo.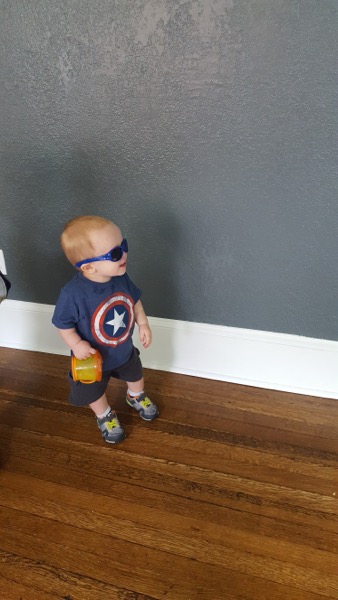 Well, I guess we know where little Mr. Cool gets it!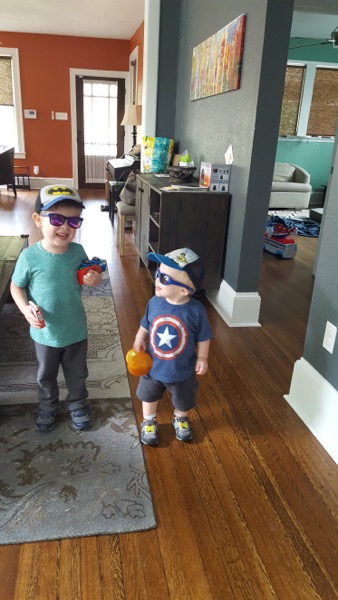 Daddy and Malcolm selfie (photobombing graham cracker).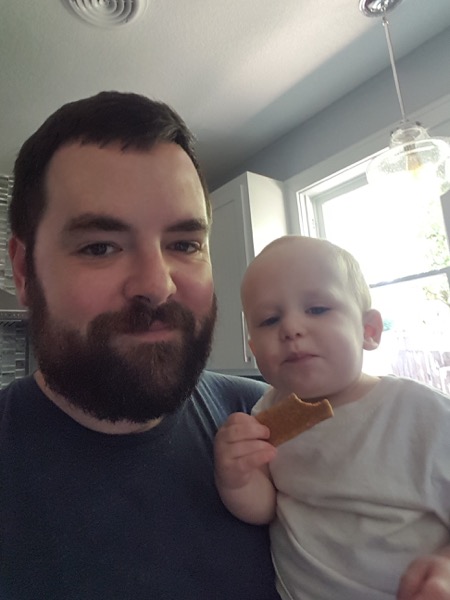 Silly K.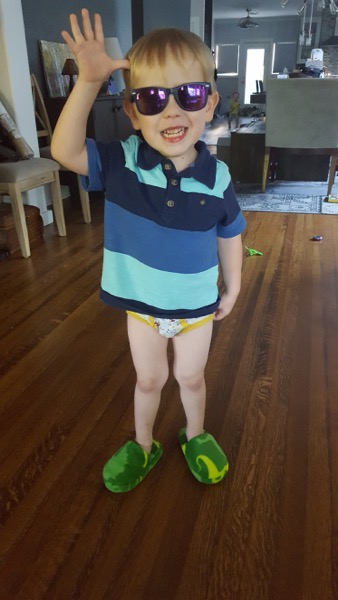 One of my coworkers had a daughter turning 5, and she invited us to her daughter's birthday party.  Kieran had a lot of fun and got a bubble wand party favor!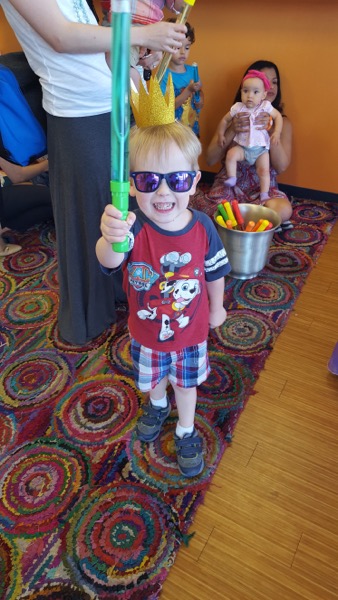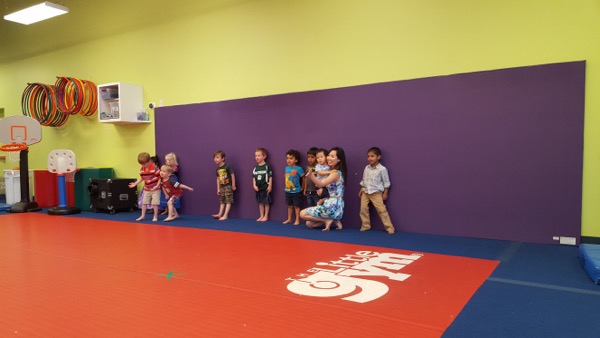 We took an adventure to the Forth Worth Zoo, complete with friends Natalie and Jacob (and their parents, of course, but I don't have any pictures of them).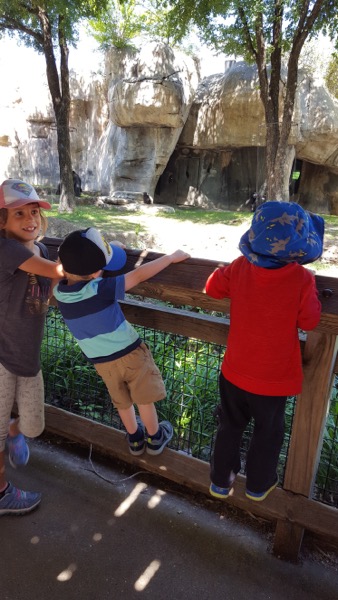 Best attempt at a photo with all 4 kids in it.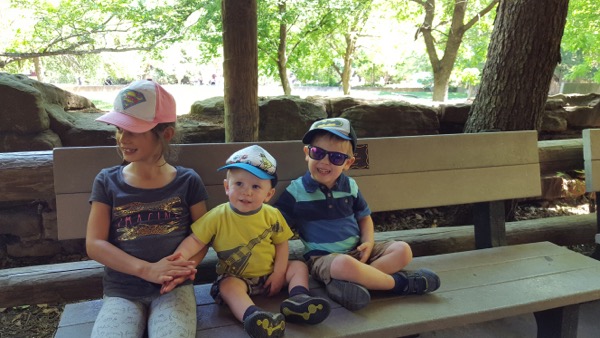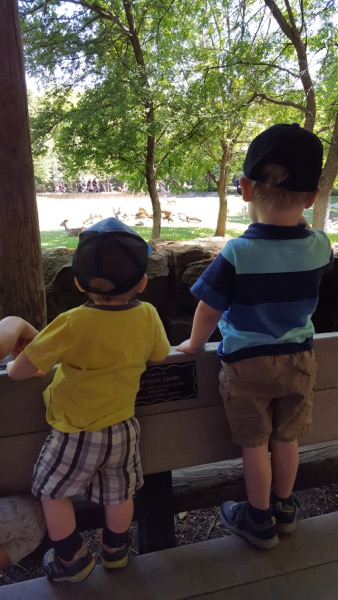 Kieran hauling a full wagon.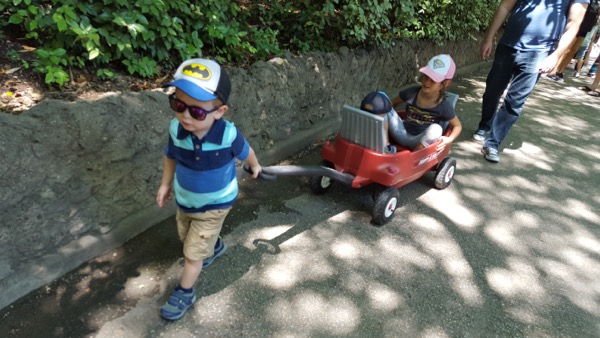 Waiting for the zoo train and having a snack.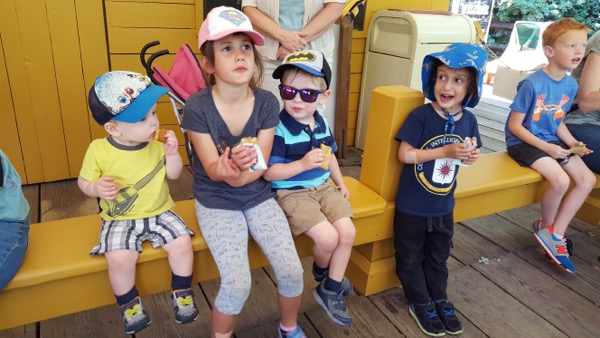 Fruit bars!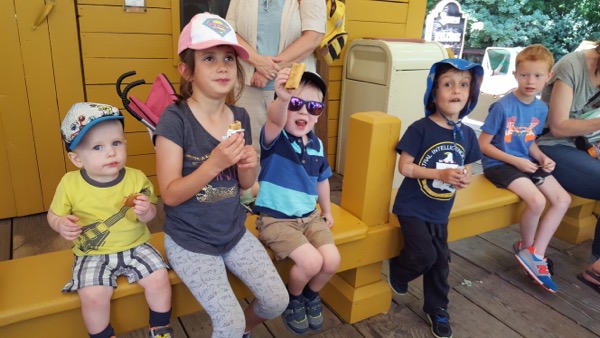 Malcolm taking a little water break.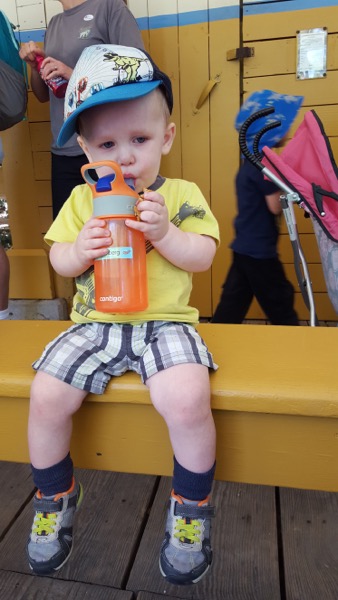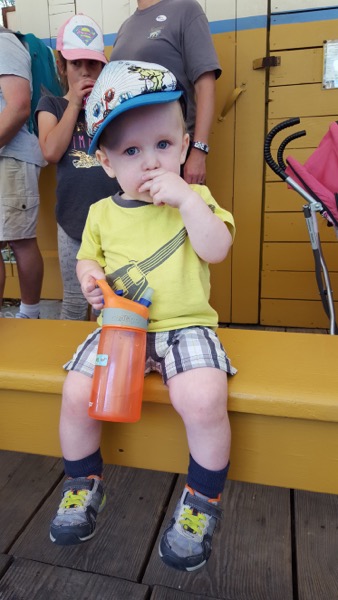 Daddy and Malcolm riding the train.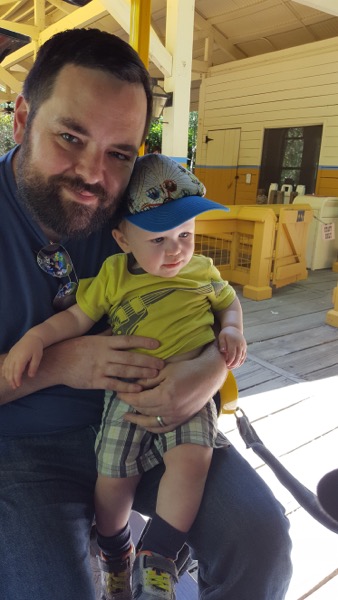 Jacob and Kieran – two silly boys.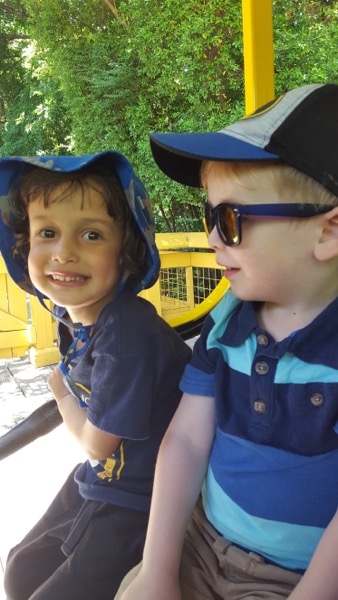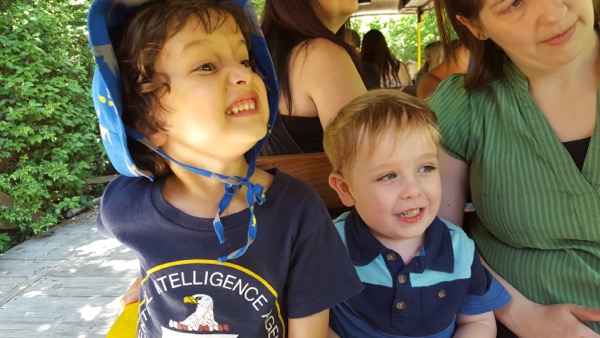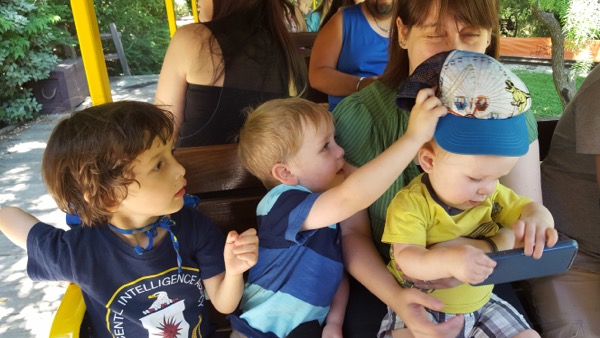 Kieran and Mommy silly selfie.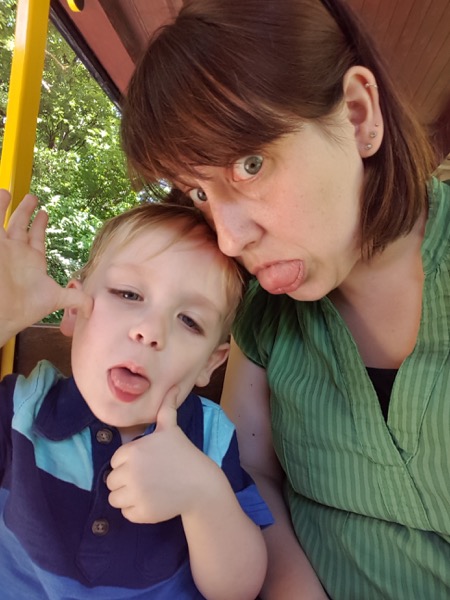 Taking a selfie with my boys.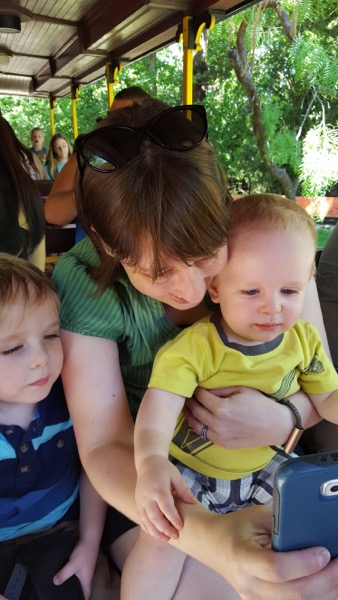 There is a new kids' water park at the Ft. Worth Zoo.  The kids loved it!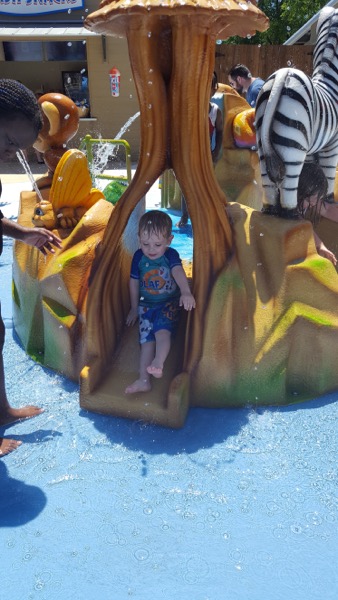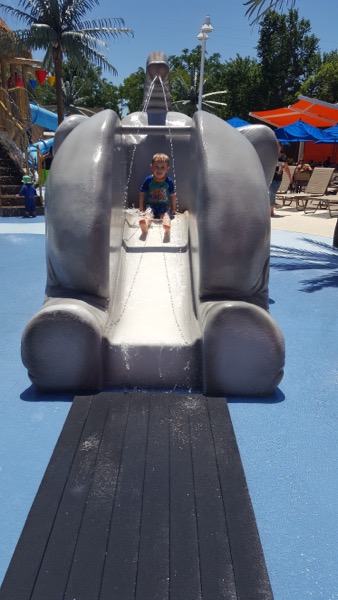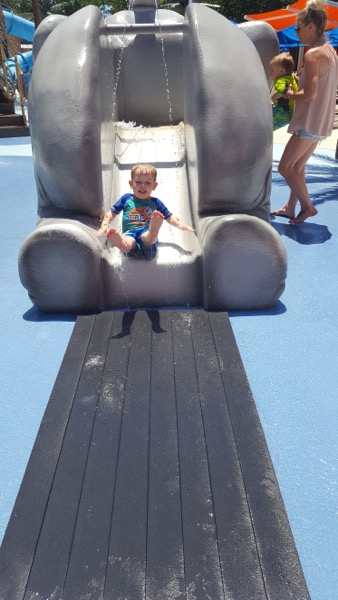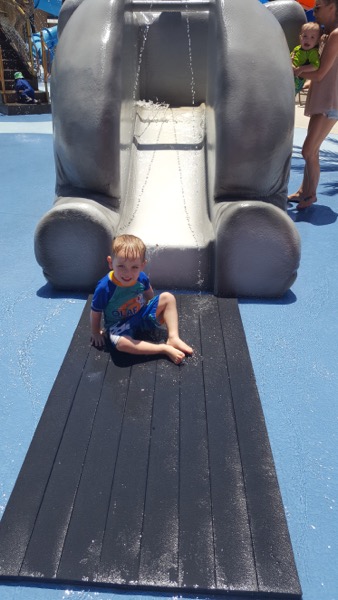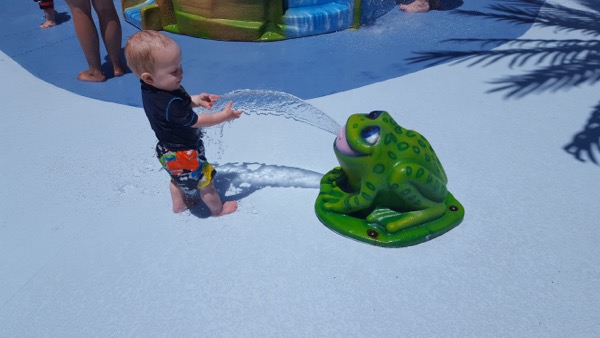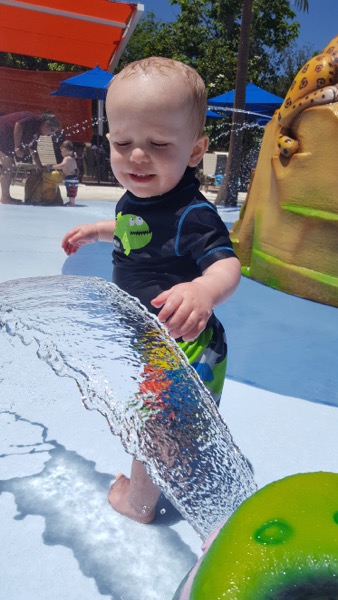 Checking out the new Hippo exhibit at the Dallas zoo.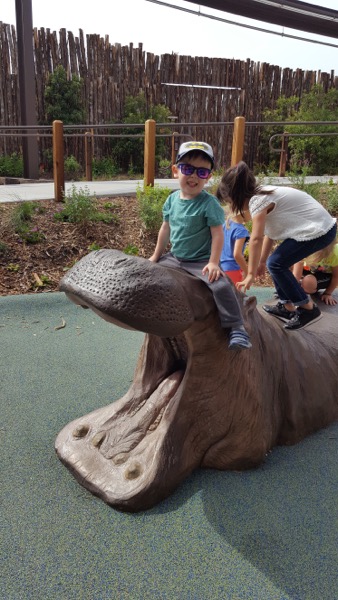 Tiny hippo and tiny hippo rider.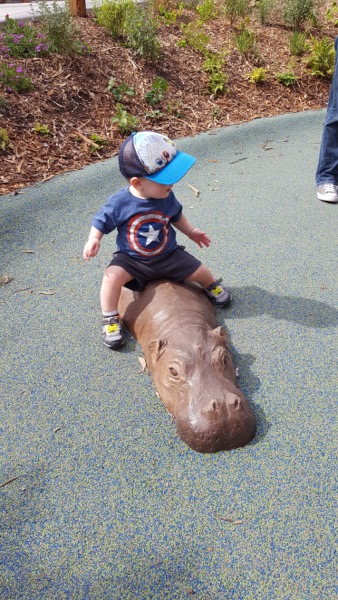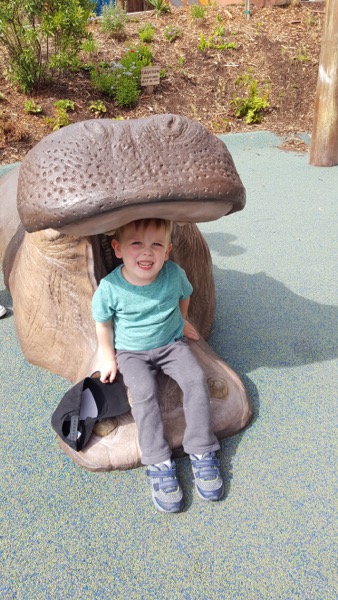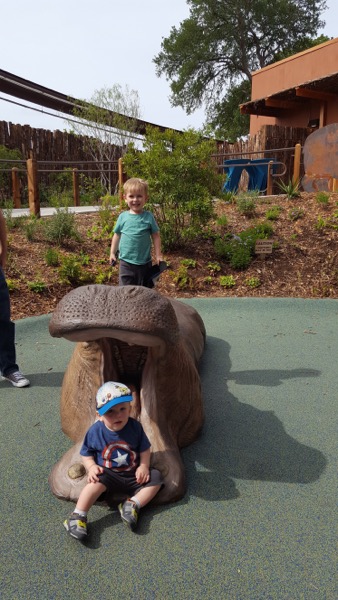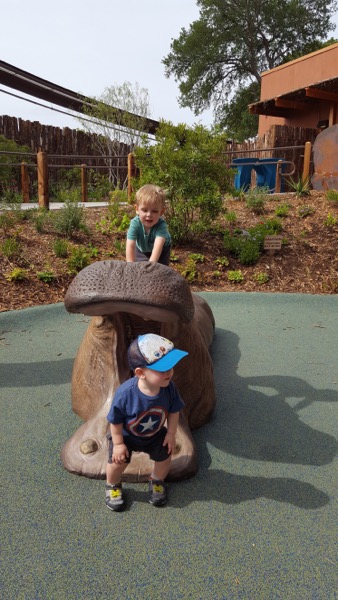 For Memorial Day weekend, we did a special overnight trip to the Great Wolf Lodge (about 30 minutes from home). The boys got red, white, and blue wolf ears that are still a favorite toy. We went to the indoor water park twice, went to a pre-bed dance party and story time, and had pizza and ice cream in our room.  It was a big hit.
Trying on swim gear – ready to go!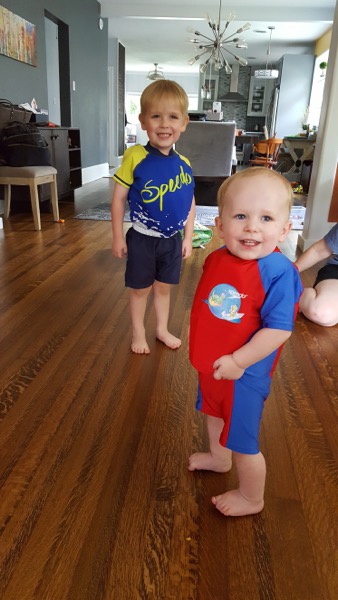 At the Great Wolf Lodge – time to visit the water park.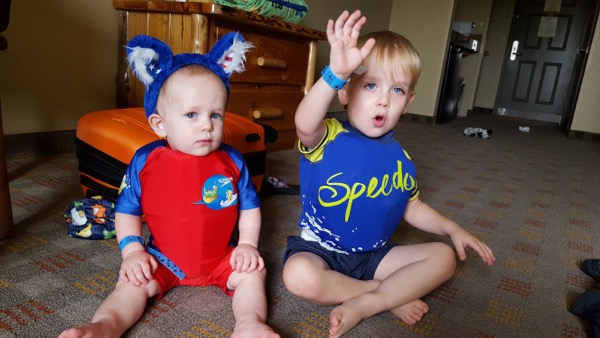 Little swim model.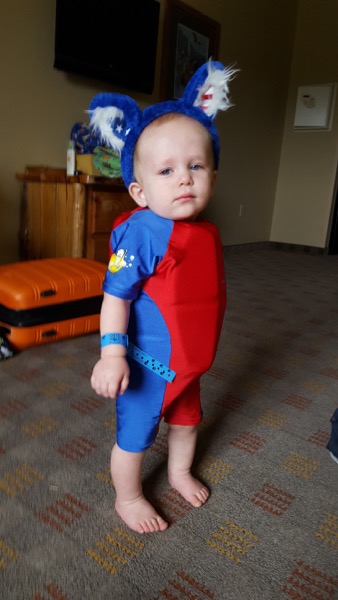 Story time – can you tell someone is SO tired?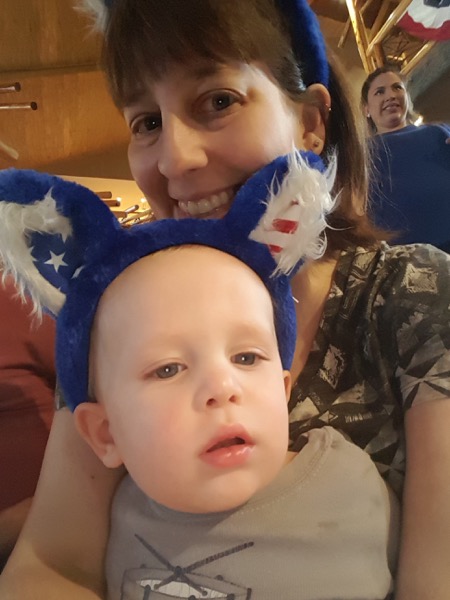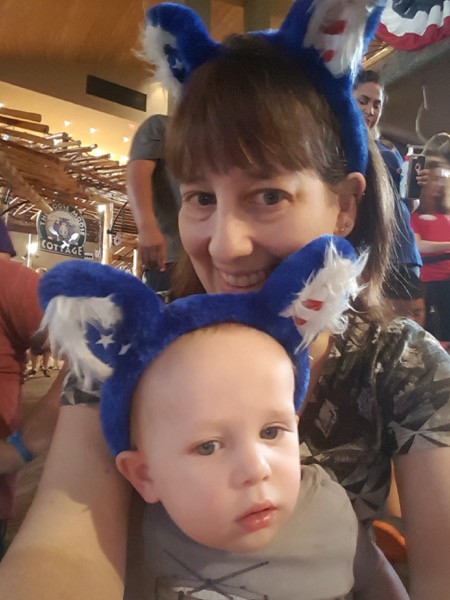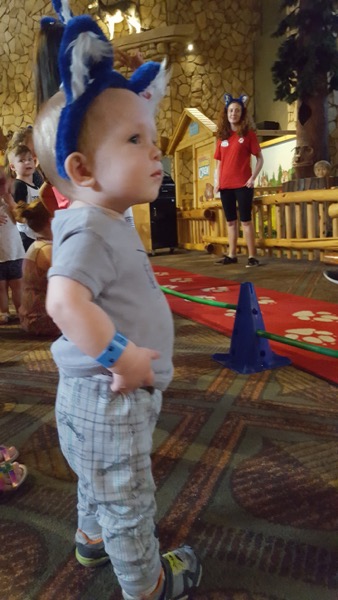 Two little wolves playing Simon Says.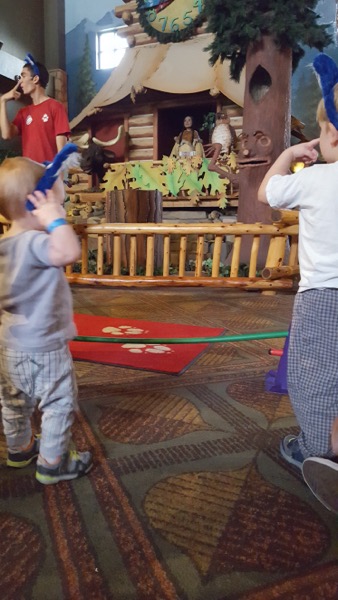 Riding a unicorn in the arcade.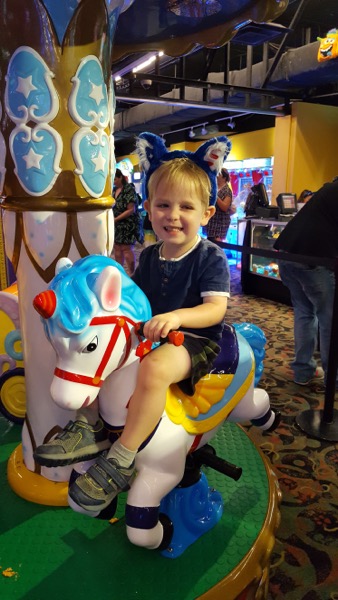 Great Wolf Lodge lobby and view of the indoor water park.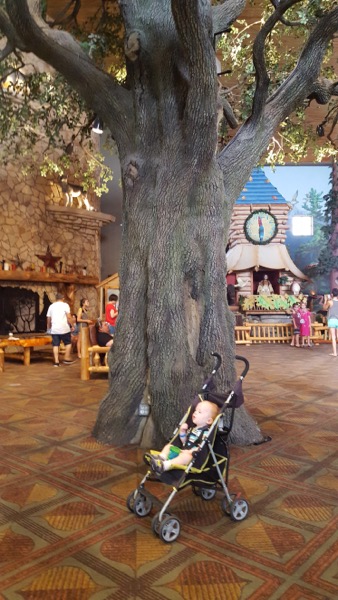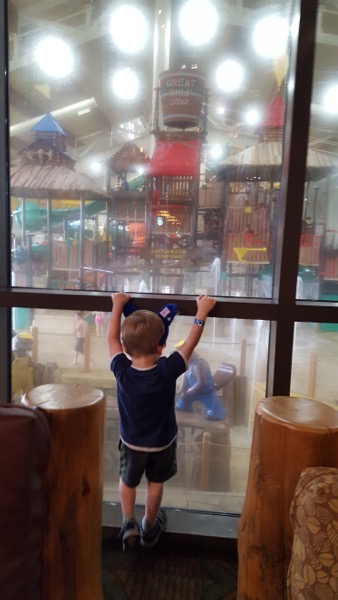 Our neighbor gave us tickets to a benefit for Twelve Hills Nature Reserve that was held at this beautiful, modern home that sits right on the reserve. The food and artwork were awesome, and they even had a special owl visitor!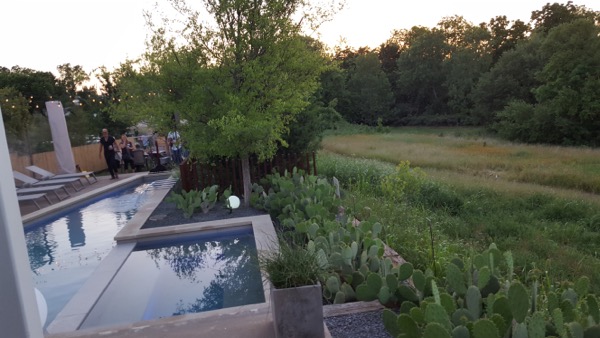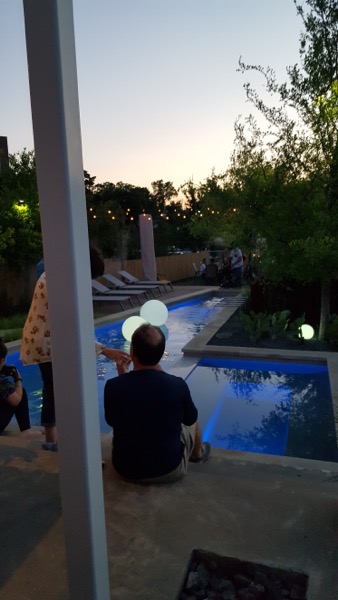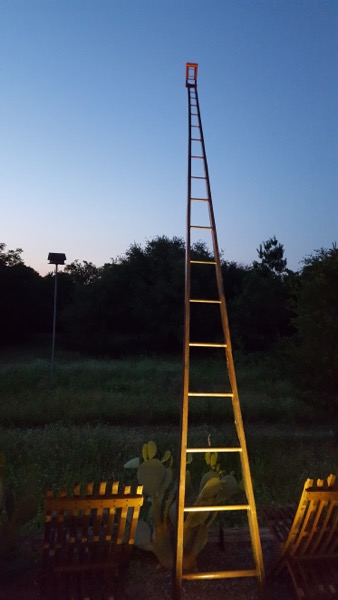 Our neighbor Anabel with the owl.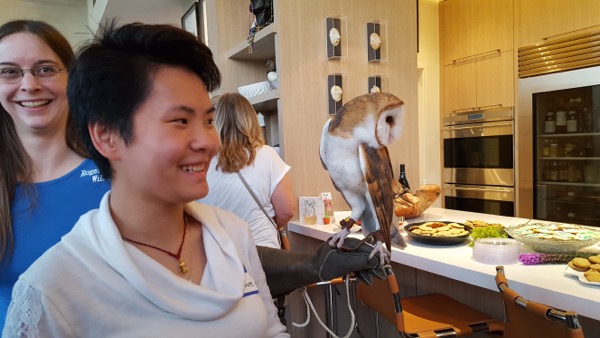 We also had a couple of opportunities to go out, just Jon and me, to try some of the amazing food in Dallas.
Duck confit hash and chicken and waffles at Ten Bells.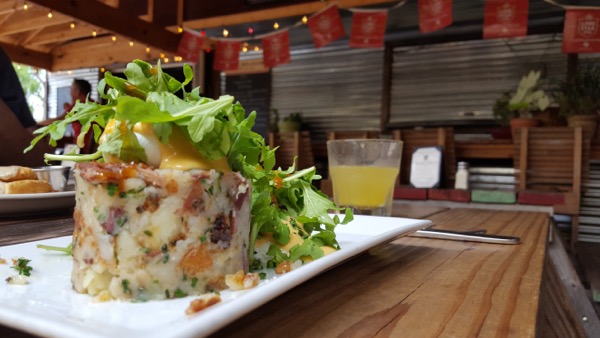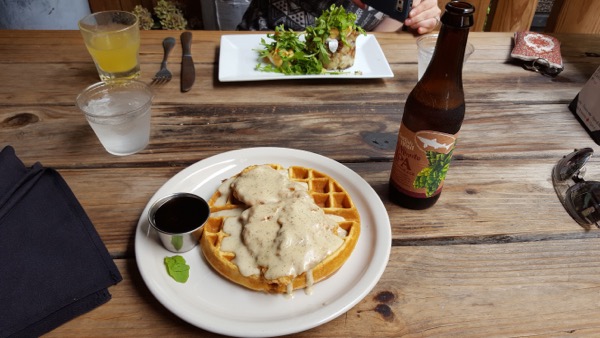 Banana bread club sandwich with chicken salad and something like a Croque Madame on a lunch break from work.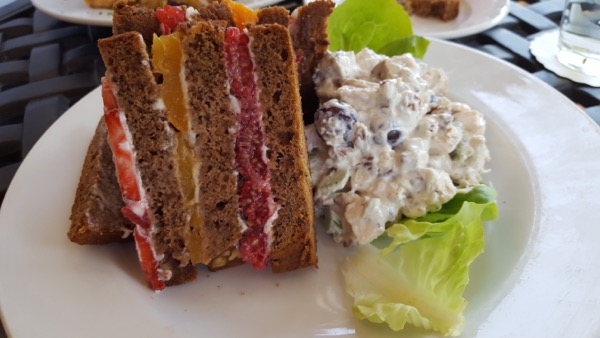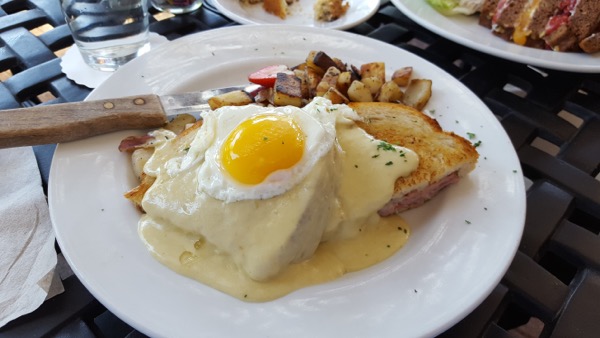 Mother's Day pizza at Eno's.  Yum!