It's been extraordinarily long, so here goes!
First up are two videos from way back in May when Kayla performed with the orchestra in the spring concert. They played 7 numbers, but she only wanted two recorded. The first is the Dartmour.

The second is an all-time fave for Kayla – Beethoven's 5 Secrets by The Piano Guys, adapted for their little orchestra.

Ashley had a piano recital in there too, but she did not like the way the performances turned out. She wants me to record her playing here at home on her good piano. Ashley also had a karate belt test since the last post, where she earned her purple belt. She will rapidly be reaching the stage where each test won't be able to advance a color, and there won't be stripes any more either. She plans to stick with karate until she earns her black belt, which she hopes will be before high school graduation. Then she'll stop because college will be on the horizon.
The summer has been busy! Kayla has been working at Six Flags in the games department. She really likes it! It has kept her fairly busy, working 5 days per week.
She is now working only Saturdays because field hockey is starting on Wednesday. She starts school on August 24th. She's taking AP English Language, AP Statistics, Biology, Modern World Topics, Christian Scriptures, Spanish 2, and orchestra. It is looking like a good year with good teachers and schedule. Let's hope! We start looking at colleges this year, and she will have a College Skills class second semester in place of Health to help guide her through some of the stuff (all juniors get this class).
Ashley has been hanging around with friends and me. She is now gravitating toward a career in art, perhaps working costume or make-up design or special effects for movies. She's 13, so a lot can change between now and when she actually has to make up her mind! She will be applying to Woodlands soon and starting school on the 22nd. It will be the last year we will have kids in our local district.
We went to the Lake Bluff 4th of July Parade, but it was just Ashley and me. We saw fun things and Ashley made a new "friend".
Kevin has been working and traveling a lot. I have been trying to do things left handed.
Before: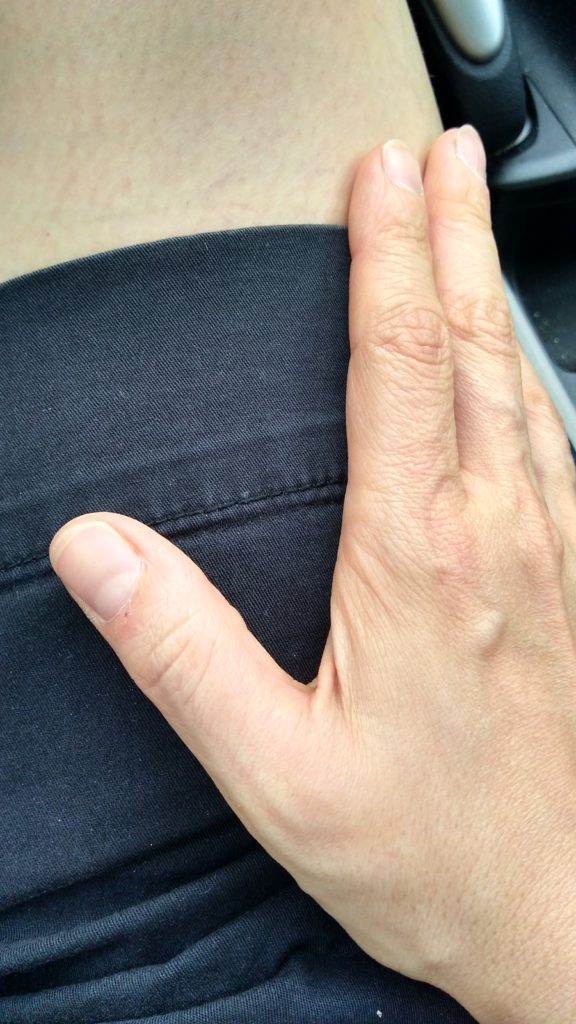 After: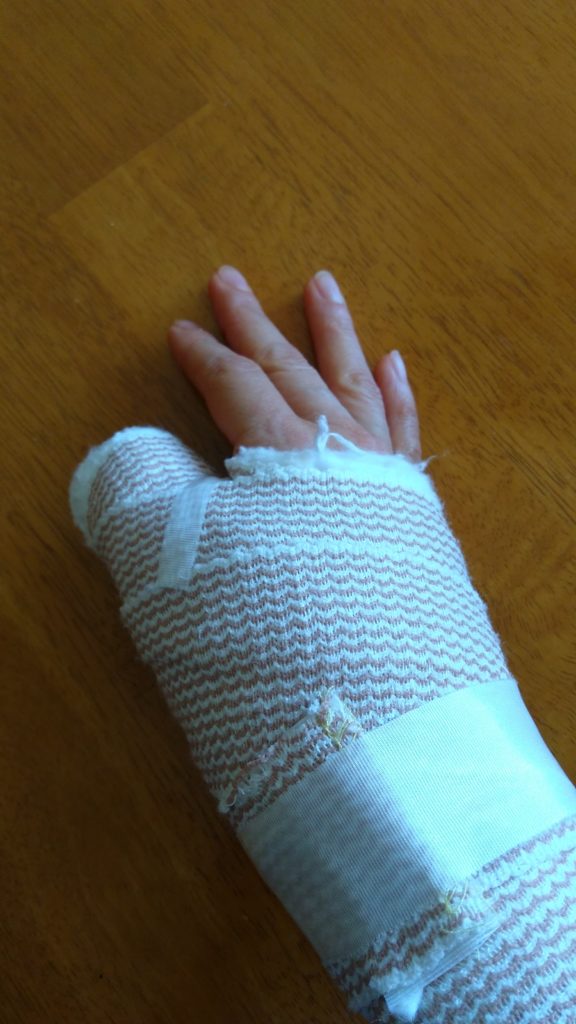 The girls and I went with Erin and the boys to Six Flags. Rhys had a good time!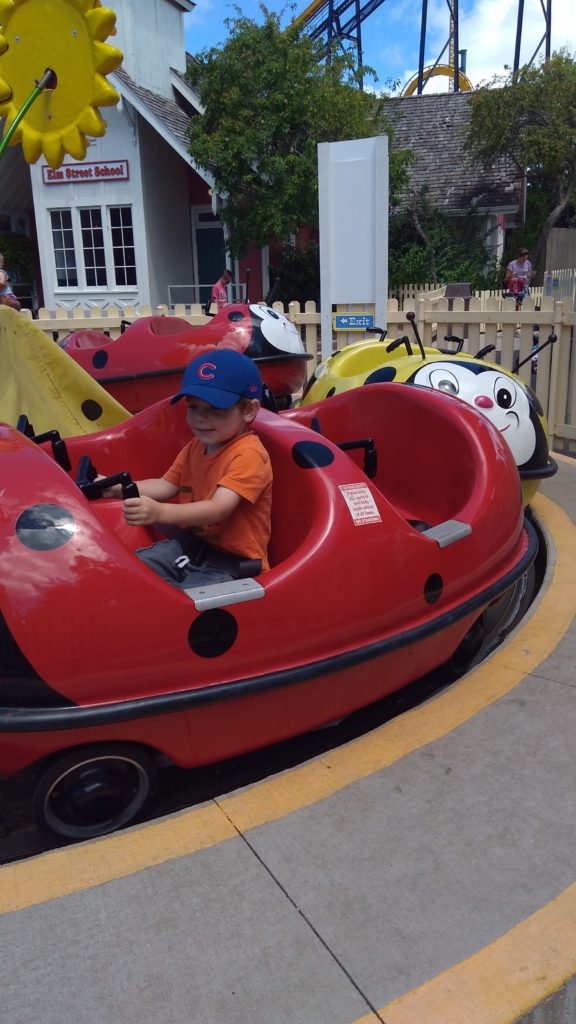 The whole family took a last mini vacation this past week to Cedar Point in Ohio. Kevin and the girls got Fast passes and rode almost every coaster in the park on the first day. We stayed 12 hours until almost 10PM local time so that they could ride one of the coasters in the dark. They got freaked out coming off that coaster when they noticed that the tree and wood fence lined exit ramp was covered in spiders! We went back the second day to ride the other things but didn't stay as long. I got to ride the train, the sky lift, and the giant ferris wheel. I also got to hold things, fill water bottles, and calm any fraying tempers. Here are some pix!
We ran into some rain, but not too much. Check out the sky. The coaster in the picture is Gatekeeper, which spans right across the whole front of the park and over the main gate.
Cedar Point is right on Lake Erie.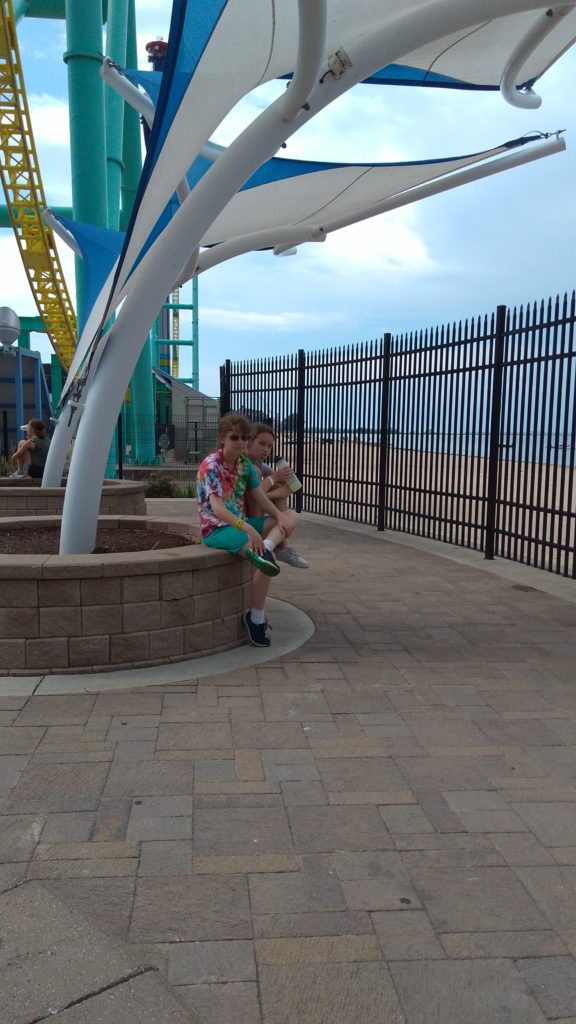 Getting ready to ride Maverick, one of the "Savage 7" coasters in this park.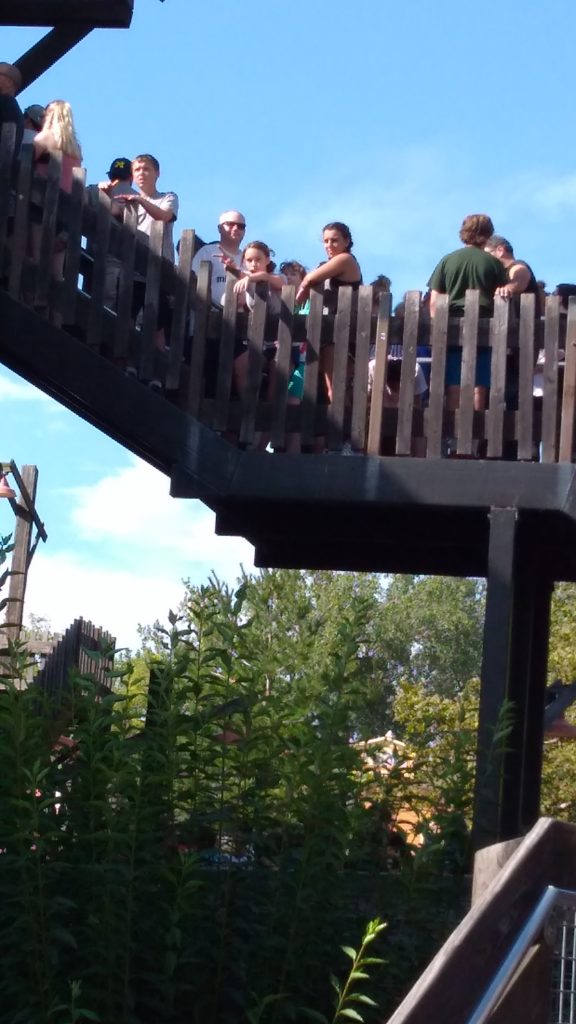 Maverick about to take off. Kayla is in front of Kevin and Ashley.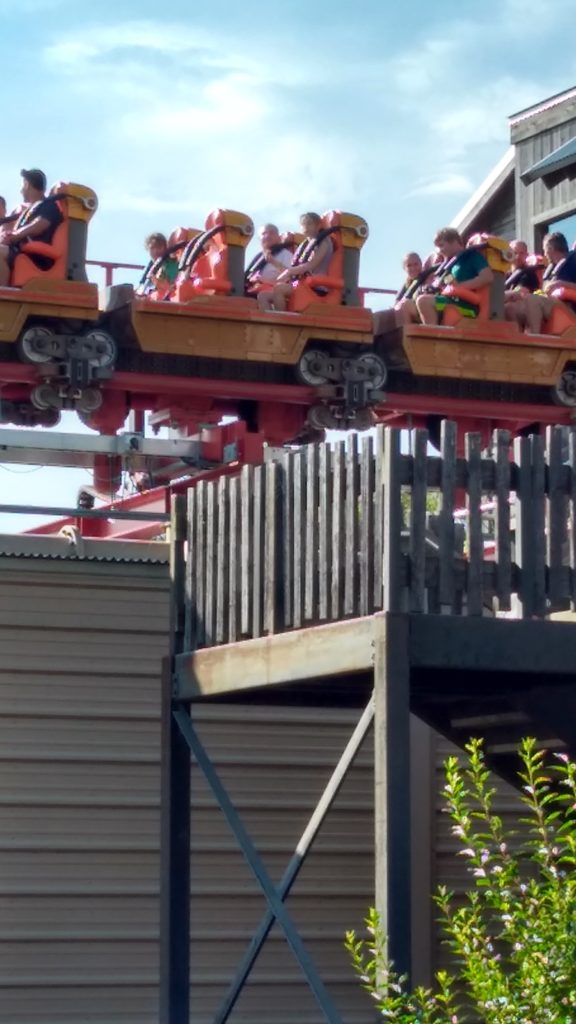 This is Kayla about to launch on Top Thrill Dragster. She's in the middle next to the lady with the yellow shirt.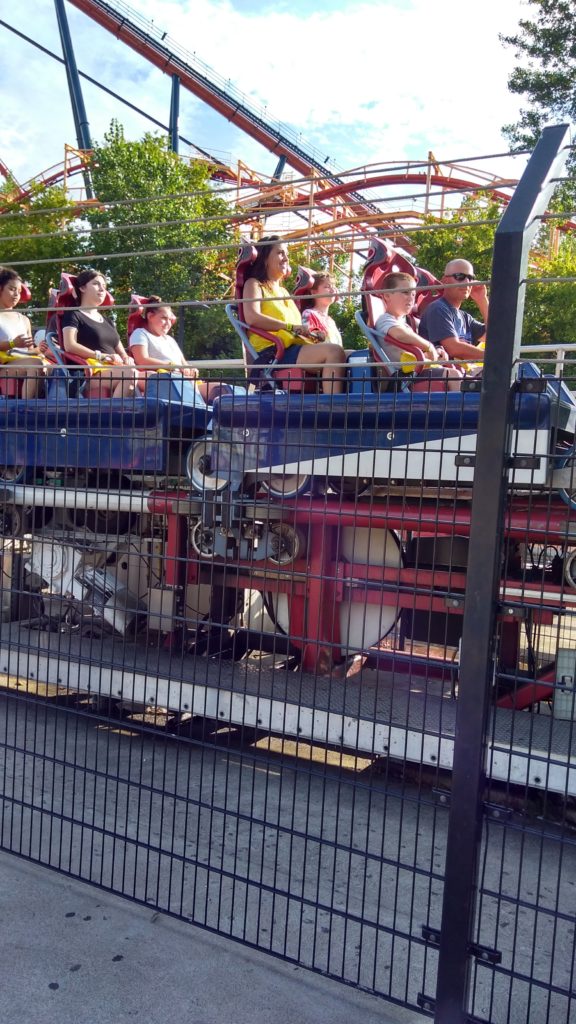 Dragster launches you to 25mph in the first 0.76 seconds, then gets even faster to propel the car up the vertical loop. You go over the top, then twist down.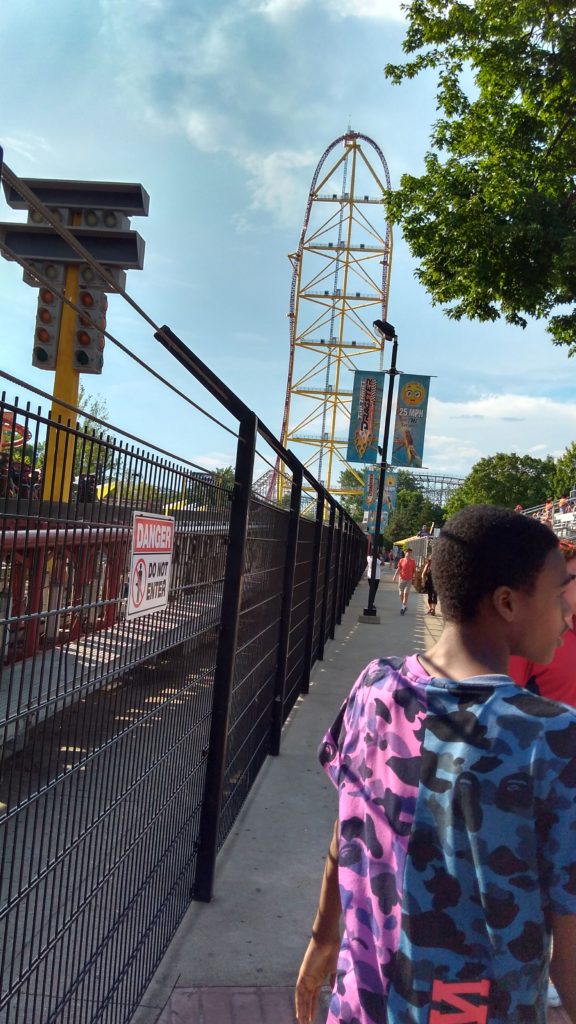 Ashley and Kevin getting ready to launch. This is the only time I have ever seen her nervous about a coaster! She just wasn't sure they would have enough momentum to get over the hill. They did.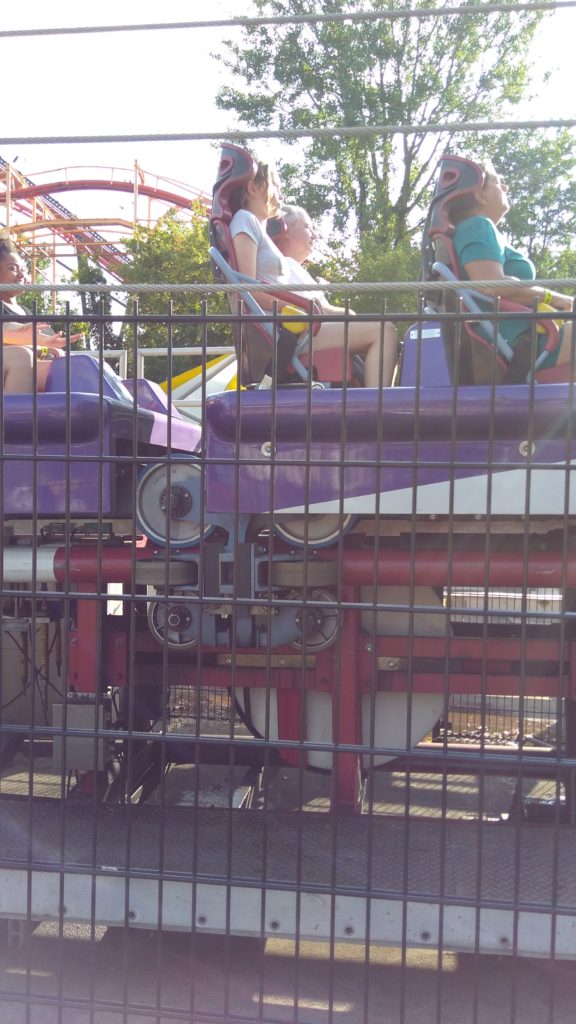 Me and my girls at the gate for the park. That's Gatekeeper running over our heads. The girls and their Dad rode the "Savage 7": Valravn, Millenium Force, Raptor, Rougarou, Magnum XL 200, Top Thrill Dragster, and Maverick. They also rode a bunch of other things.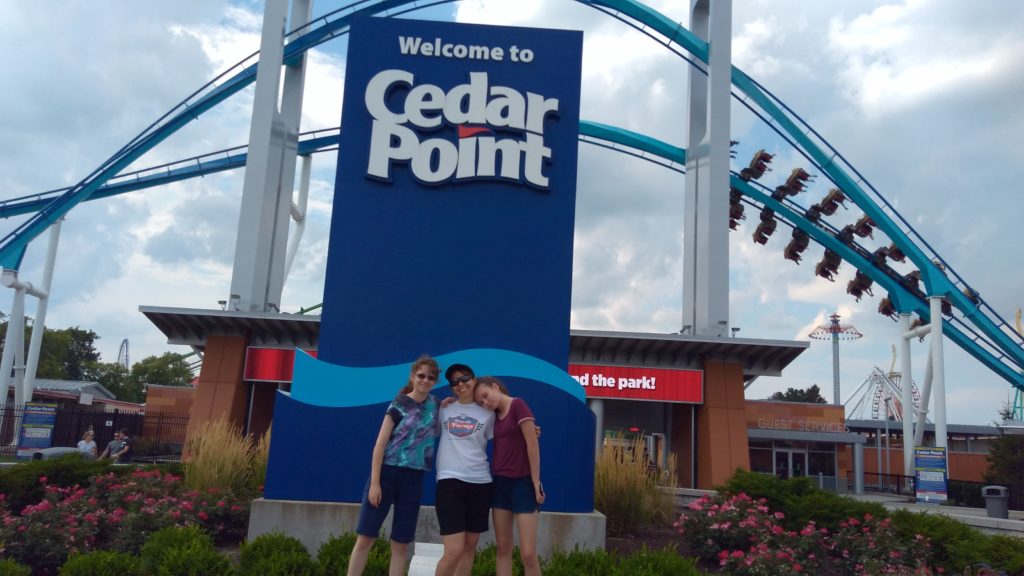 The whole family! Can you tell Kayla and I are related? Check out that stance!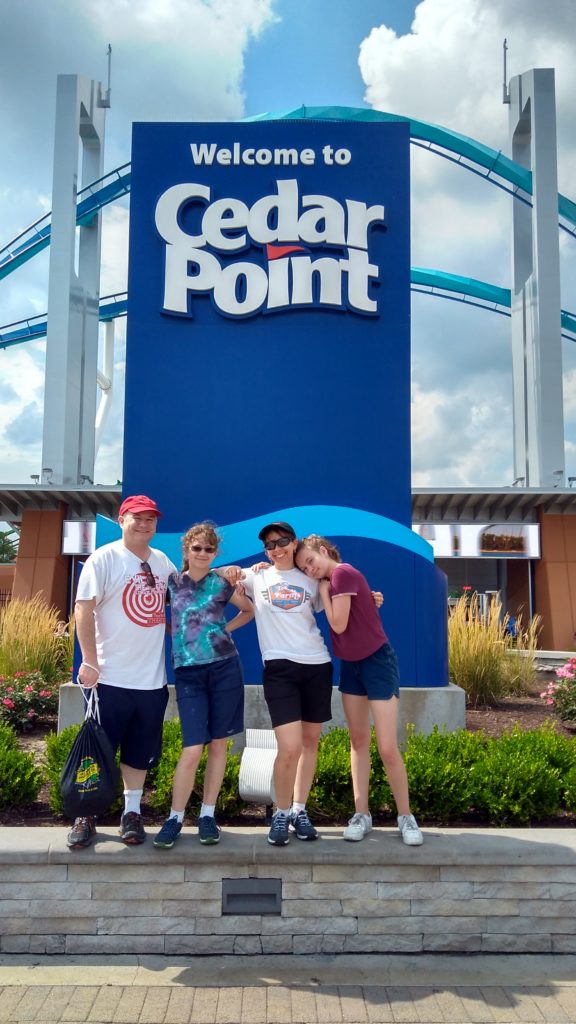 A silly snack break.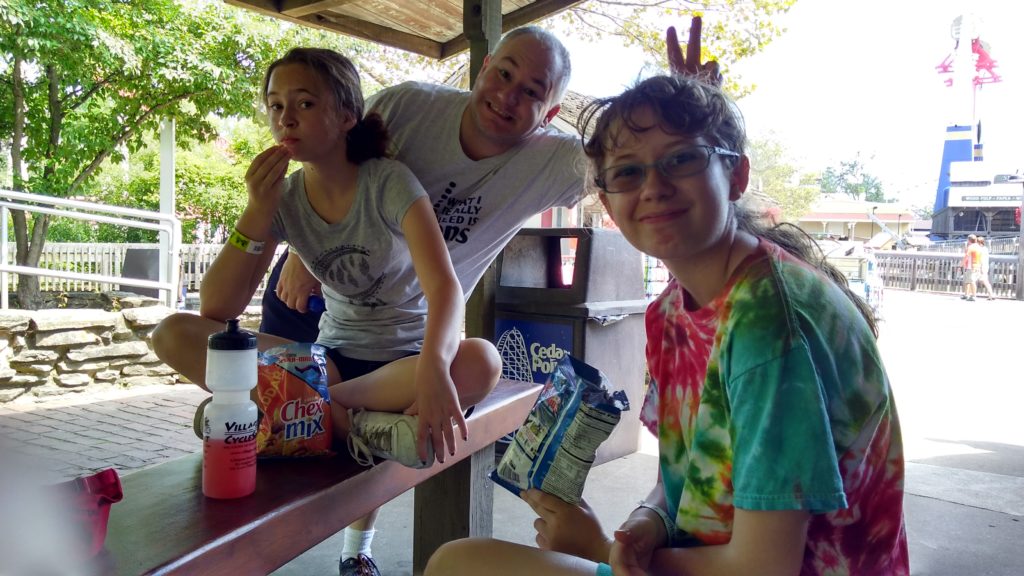 This is the first drop for the coaster Valravn. The train cars have 3 rows that seat 8 across. It dangles at the top of that drop before letting go.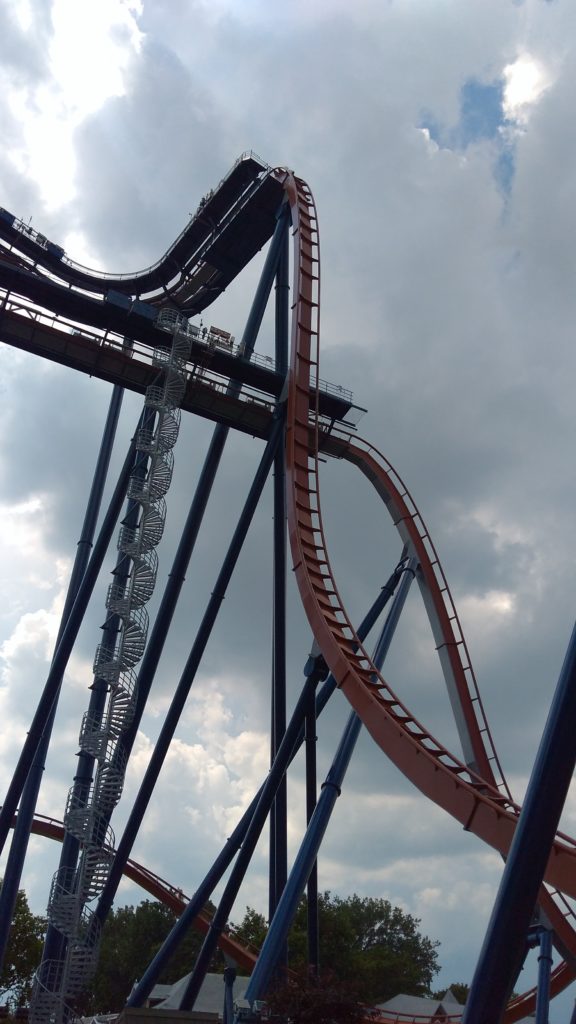 Bumper cars while it sprinkled outside. Thunder shut down the main rides for about an hour on Wednesday.
By a weird coincidence, one of Kayla's fellow robotics team members was at the park the same time as us. I spotted her, but Kayla was getting on a coaster so the girls never actually connected.
Before leaving, we visited the "World Famous" Cheesehaven. Kevin found some special aged cheddar, and they had a section for weird sodas like this one. Nobody seemed to want to buy one though.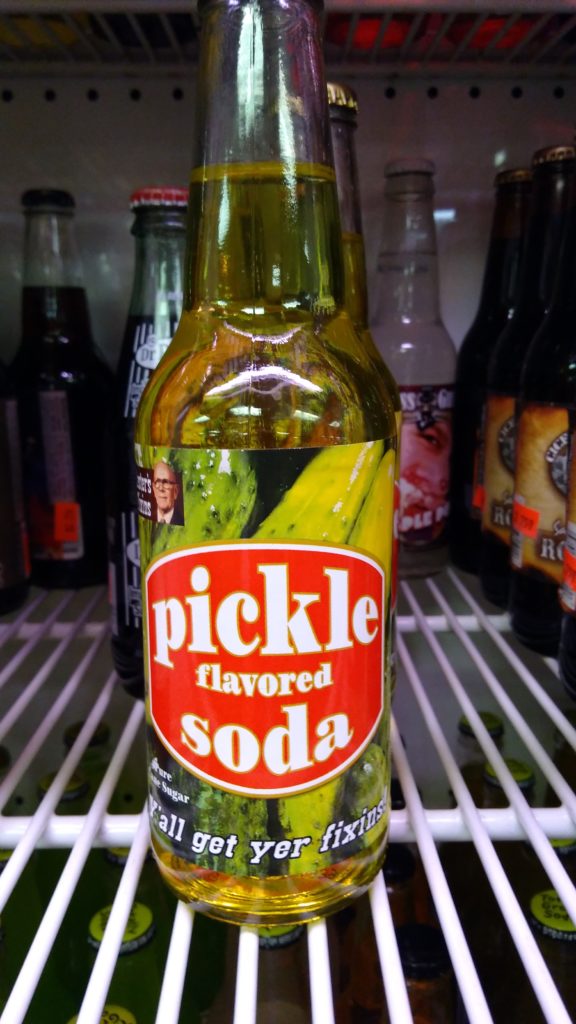 Kayla did a little bit of the driving too, both there and back, to get some highway experience. Nothing more monotonous than the Indiana/Ohio Turnpike! She got to practice her passing and lane changing skills too.
Both before and after our trip, we have Gizmo with us. He misses his mom.
But he still has time for pampering and play.
Ashley just left for a trip to Michigan with her friend. When they came to get her, they brought their dog Una. She's a one year old Shitzu-Yorkie mix. She and Gizmo got along fairly well!
He chased her around the house and got all energized to play. He just went outside and chased a bunny out of the yard, so his day is complete. Kevin is in Vegas for work until Tuesday, Ashley comes home Tuesday. It will be just Kayla and me for the next few days!